Rising Stars in Real Estate: Dustin DeFrates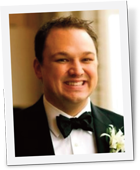 Dustin DeFrates
Realty Executives | Scottsdale
Licensed July 2008
www.managedbycima.com | www.azrealtyservices.com
Dustin DeFrates got bit by the real estate investment bug at a young age. One of his first memories is getting paint all over himself helping on the front porch of a rental property his dad owned in Chicago.  He came to Phoenix in 2003 as a real estate investor and became licensed in 2008.
DeFrates defines his business model as the rule of PAAR: Prediction, Assumption, Adaptation and Reaction. "I've been pretty good about predicting the waves of the market," he notes. "In 2003, I was buying and selling homes as quickly as possible like everybody else. Towards the end of 2004, I knew prices were too high, so I looked for multi-family properties that I could convert to condos. In 2008, with distress coming, I set myself up to focus on short sales."
Two assumptions guide him: As prices go up, focus on sellers and opportunities to sell. As prices go down, focus on buyers and opportunities to buy. "I think we have a beautiful opportunity coming up for both buyers and sellers," he remarks. "For buyers, it's still cheaper to get a mortgage than to rent. For sellers, they're finally able to sell, maybe even make a few dollars. It's a fantastic market because both objectives can be achieved."
 "You have to be prepared to adapt your business model," notes DeFrates. "My current adaptation to what I foresee in the market is to expand as quickly as I can. We're moving heavily into advertising, both print and online. We're actively recruiting top agents. And we're organizing the systems and procedures necessary to properly manage our productivity."
"My reaction is to study my strategies and determine the successes and failures. Six months from now, I'll reassess and start the process again!"
---
Smart Start – Resources for Rookie REALTORS®
If you're a new agent—or an experienced agent looking to get back to basics—be sure to visit aaronline.com/startsmart. This page is full of resources for new agents, including an excellent video series that walks rookies through some of the most important tasks of the first 60 days in the business.
---
This is one of eight rising star profiles included in the July issue of Arizona REALTOR® Magazine.