2013 Arizona Association of REALTORS® Professional Standards Workshop
This year, AAR's  Annual Professional Standards Workshop celebrated the 100 year anniversary of the NATIONAL ASSOCIATION OF REALTORS® Code of Ethics, [1913-2013].
Hosted at the Black Canyon Conference Center, more than 150 AAR members attended the 2013 Annual Professional Standards Workshop on January 23. Attending members were those who serve on Professional Standards and Grievance committees, are mediators or ombudsmen.  Association Executives and l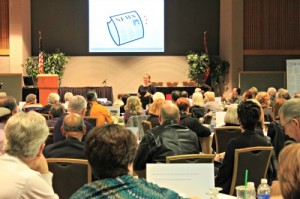 eadership were also invited to share the day at the workshop. Larry Hibler, moderator for the workshop, introduced Trista Curzydlo, the speaker for the morning, is a nationally known speaker. Trista is an attorney who previously served the Wichita Area Association of REALTORS® as Legal Counsel, worked in the District Attorney's Office  for the State of Kansas and served as Assistant Legal Counsel for Kansas Governor Bill Graves shared her "Go Forth and Sin No More" presentation.  She offered an anatomy of an Ethics Complaint and Arbitration Request, highlighted ways of determining Procuring Cause, discussed case studies and concluded with Pathways to Professionalism, summarizing the three-part doctrine which details practices to increase the professionalism of the industry.
Extracted from a survey shortly after the workshop, a few of the remarks from attendees  about Trista' presentation were  . . . "The morning speaker was excellent and really got her points across." "[The] guest speaker was entertaining and informative." "Her hands on experience add substance to the whole presentation." "The speaker was great; I appreciated her back ground on the code."  "Fantastic speaker, bring her back!"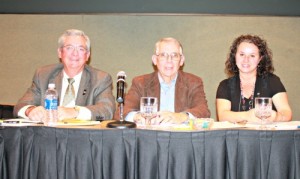 In the afternoon, Larry [Hibler], introduced AAR's new Legal Counsel, Scott Drucker who conferred with those in the audience helping them dissect two (2) case studies from complaint to hearing.  A panel, consisting of Larry Hibler, Ed Hume and Mary Francis Coleman, discussed with the members, issues related to the complaints while Scott, interacted with the members and evaluated with the panelists, various components in the cases, discussing arbitration issues and possible violations of the Code of Ethics.
The day concluded with a presentation on Mandatory Mediation from Scott Drucker, Legal Counsel and Jan Steward, Risk Management Specialist at AAR.  A newly adopted policy at AAR, mandatory mediation became effective January 1, 2013 as a process to resolve matters that are otherwise arbitrable.  Carole Ridley, professional standards administrator fielded closing questions from the members.