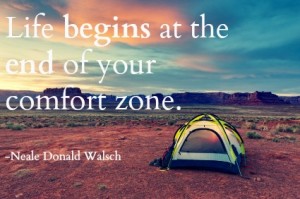 If the saying is true, and life really does begin outside of your comfort zone, then I'll definitely be living this weekend. I'm going camping; and this city girl does not camp. But, the heat wave in Phoenix has cooler temperatures calling my name and, apparently, a tent. Wish me luck!
Here are a couple ideas for you to try this weekend to break out of your comfort zone:
5 ways to improve your search engine optimization (SEO)
Take better photos of your listings
Accomplish inbox zero
Find out how to earn a designation
Take up speed reading (just in case the inbox zero thing doesn't pan out)
Build your network
Become a more effective negotiator
Find a good reason to unplug
P.S.
The June issue of Arizona REALTOR® Magazine is out and features input from AAR General Counsel and many of your fellow REALTORS®. It's a great read!
Enjoy your weekend!