The Federal Housing Finance Agency (FHFA) Office of the Inspector General (OIG) released a mid-program assessment of HARP on August 1.  As identified in the report, there are challenges to the program's effectiveness for borrowers, mostly due to a lack of borrower knowledge.  According to the report, "Under HARP 1.0, borrowers were rejected by lenders for various reasons that contribute to today's confusion. Lenders turned borrowers away because of credit and process overlays and capacity constraints. This left many borrowers frustrated or under the mistaken impress that they were ineligible for HARP." 
The report notes that with conversation from lenders and borrowers through outreach efforts, "there is a subset of borrowers who are eligible for HARP, but not interested in refinancing despite the potential benefits."  Lenders are now permitted to make a contribution to the borrower of up to $2,000 to reduce the HARP-refinanced loan's unpaid balance. Additionally, lenders may offer a $500 cash equivalent, such as a gift card, to borrowers during the HARP refinance process  under the condition that the lender cannot require the borrower to repay either amount and must disclose the contribution on the HUD-1 as a lender credit.
In conclusion, the report offers that as a result of the HARP 2.0 modification, the program's volume has increased substantially, especially for mortgage loans with a greater than 105 percent Loan to Value (LTV) ratio. Remaining barriers or challenges for the program to overcome in the remaining  two years will be that of educating borrowers and encouraging their participation in the program.
As REALTORS®, you can play an integral part in the education process by educating yourself, then the public to ensure a broader understanding of the variety of programs that are available.
Figure 1 outlines today's eligibility requirements: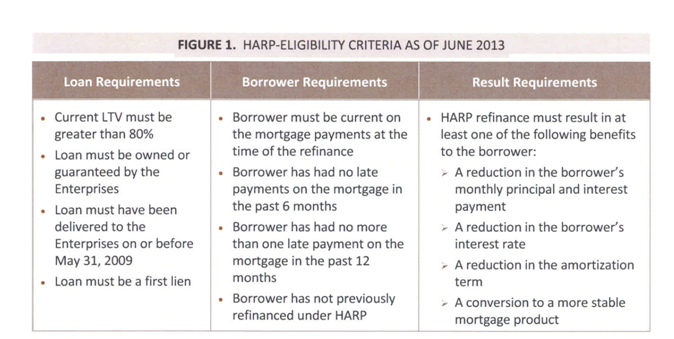 OIG EVL – 2013-006 August 1, 2013
Figure 2 outlines HARP's inception  through the programs extension announcement date in April, 2013: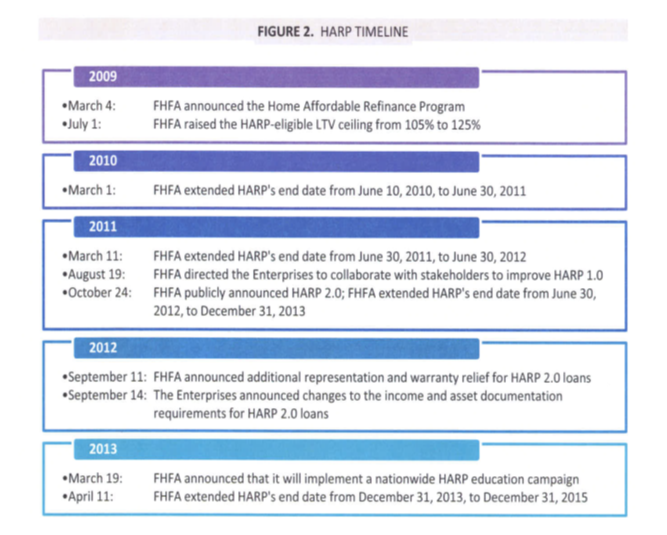 OIG EVL – 2013-006 August 1, 2013
To read the report, go to:  http://fhfaoig.gov/Content/Files/EVL-2013-006.pdf