A recent report from the Federal Housing Finance Agency (FHFA) stated that 68,340 refinances were completed through Home Affordable Refinance Program (HARP) in the month of August. This report goes on to demonstrate that refinance volume has continued to decrease in August after
mortgage rates rose in July. Since its  inception, a total of 2,886,856 HARP refinances have been completed.
The number of completed HARP refinances for deeply underwater borrowers[1] continues to represent a significant portion of total HARP volume.  In August 2013, 17 percent of the loans refinanced through HARP had a loan-to-value ratio greater than 125 percent.  Year-to-date through August 2013, borrowers with loan-to-value ratios greater than 105 percent accounted for 42 percent of the volume of HARP loans.  For the same time period, 19 percent of HARP refinances were for a shorter term; 15 and 20 year mortgages which build equity faster than traditional 30-year mortgages. Arizona represents 37 percent of the total HARP refinances to date. Fifty-nine percent of Arizona's refinanced loans had a loan-to-value above 105 percent (see below).
Figure 1, pg. 7:  FHFA Report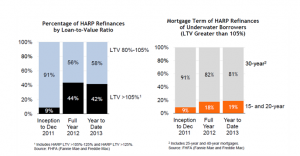 Figure 2, pg. 7: FHFA Report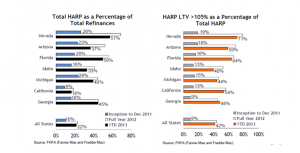 To read the entire report, go to: http://fhfa.gov/webfiles/25620/August2013RefiReport.pdf
---
[1] A deeply underwater borrower is one with a mortgage loan with a higher balance than the market value of the   home.