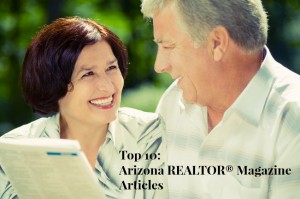 Each month, AAR produces a digital magazine that focuses on topics that affect Arizona REALTORS®. Here is a list of the top 10 most-read articles from the Arizona REALTOR® Magazine in 2013. If you've got a story idea you'd like to see in 2014 or would like to contribute a story, please contact AAR Communications Manager Bethany Brannan.
Note: Since this benefit is for AAR members only, access to some of these articles requires members to login. If you've forgotten your password, you may reset it here.
Here are the top 10 most-read Arizona REALTOR® Magazine articles of 2013:
New Property Management/Leasing Forms
Prospecting? Avoid These Danger Zones
Your Guide to the 2013 Vacant Land/Lot Purchase Contract
Code Talk: The Case for Buyer-Broker Agreements
Property Management: Is it a "Win-Win" or a "Lose-Lose"?
 Five Steps To Prevent iMugging
Op-Ed | AAR Member Sound Off: iPad vs. Yellow Pad
You might also like:
Top 10 Most Popular Legal Hotline Q&A Topics of 2013
---
Enjoy this post? Get the latest blog.aaronline.com posts sent to you by subscribing via
email
or
RSS
.