AAR Updates Seller Financing Addendums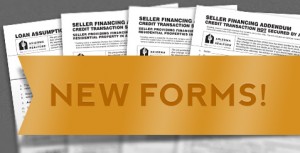 Earlier this year, the Arizona Association of REALTORS® (AAR) removed its Assumption/Carryback Addendum from the AAR forms library and replaced it with four new forms that enabled members to better comply with the seller-financing restrictions mandated by the Dodd-Frank Wall Street Reform and Consumer Protection Act (the Dodd-Frank Act).
As explained by the new forms, the Dodd-Frank Act mandates that a loan originator for a consumer credit transaction must, when required by applicable State or Federal laws, be registered and/or licensed in accordance with those laws.
The Consumer Financial Protection Bureau (CFPB) defines a consumer credit transaction as: "credit offered or extended to a consumer primarily for personal, family or household purposes." Exempt from the definition of a consumer credit transaction is: (1) an extension of credit primarily for a business, commercial or agricultural purpose; and (2) an extension of credit to other than a natural person. See 12 CFR § 1026.2(a). As such, business, commercial, agricultural, or organizational credit transactions are not considered consumer credit transactions and are not governed by the Dodd-Frank Act's seller-financing restrictions.
To ensure that its new seller financing addenda reflect the CFPB's definition of a consumer credit transaction, AAR has revised the three seller financing addenda introduced earlier this year and will continue to do so as may be required to comply with newly issued regulations and policy statements.
Samples of the revised Seller Financing Addendums are available on AAR's website, www.aaronline.com. The three revised addenda are also now available in zipForm®.
Dodd-Frank
,
Dodd-Frank Act
,
Seller financing addendum