AAR Renews eSign Agreement; Offers eSignature Capability to Members at No Additional Cost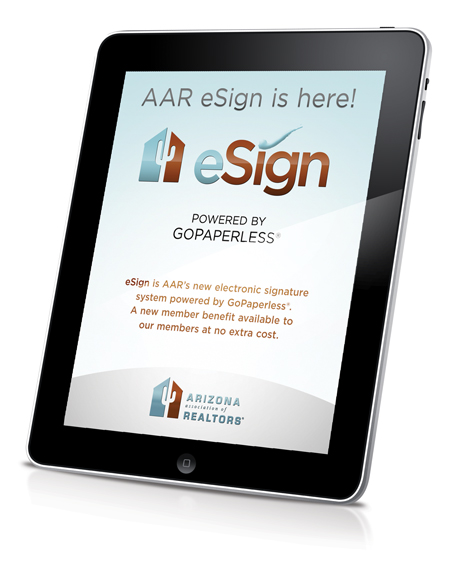 This morning, the Arizona Association of REALTORS® (AAR) and GoPaperless, the creator of electronic software product eSign, announced that AAR has signed on to offer eSign as a member benefit for an additional three years.
AAR  has been providing its members with unlimited electronic signing as a member benefit since 2012. In addition to offering this continued member benefit, the AAR interface, powered by GoPaperless, will include several new features such as the eMail2eSign™, digital certificate signing for tamper-evident seal, self-reliant, electronically-signed documents and knowledge-based authentication for added security methods.
"The Arizona Association of REALTORS® strives to ensure that our members are the best prepared in the industry; to do so adequately we offer business tools that meet the ever-evolving needs of today's consumer," said K. Michelle Lind, Esq., AAR chief executive officer. "By continuing our agreement with GoPaperless, AAR is able to provide our members with a secure, reliable tool for processing eSignatures and meeting the needs of today's real estate agent on-the-go."
"We are excited to continue and strengthen our partnership and services to the Arizona Association of REALTORS®, one of our valued enterprise clients" said Prabakar Mahalingam, GoPaperless chief operating officer. "The adoption rate within the membership has been impressive and we are continuing to see a daily increase in the reliance of electronic signatures to facilitate the real estate transaction process."
To get started:
To begin using AAR eSign you'll need to first login to your AAR eSign account. You'll need your email address that is on file with your local association as your AAR eSign Username and your NRDS number as your Password. Once you've successfully logged in, you'll be prompted to create a new password.
Your next step is to download the Printer Driver.
But before you do, be sure to watch the training videos or attend one of the live training webinars listed here.
The Arizona Association of REALTORS® offers efficient tools to our members to help them grow their business, view the entire suite of business tools available to AAR members here.