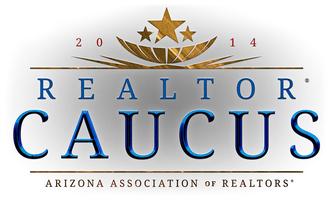 REALTOR® Caucus Sets 2015 Legislative Policy Priorities
On Friday, September 12, 2014, Arizona's most politically active REALTOR® members will meet at the Scottsdale Chaparral Suites for the annual REALTOR® Caucus to help provide the Arizona REALTORS® with input on current issues affecting the real estate industry as well as to discuss recommendations for possible legislative or regulatory actions in the coming legislative session.
From across fifteen counties, residing in many of Arizona's 90 towns and cities, REALTOR® delegates appointed to represent Arizona's 21 local boards and associations take time away from their busy schedules for a town hall style meeting to review, discuss and debate the current issues impacting real estate industry issues and practices.
Any key recommendations from these discussions and collaborative roll calls will then be forwarded to AAR's Legislative & Political Affairs Committee and then to the AAR Board of Directors for approval. The annual REALTOR® Caucus is a long-held tradition, and is the start of the "new year" for AAR's assessment of the state of Arizona public policy.
The legislature begins its Regular Session each year on the second Monday of January, as prescribed in the state constitution, and the REALTOR® Caucus proceeds the State Capitol's autumn season of bill drafting and bill sponsor-seeking efforts by stakeholder groups that set the stage for live legislation during the 2015 session.
Registration is FREE, but space is limited. Sign up today.