Highlights From 2016 REALTORS® Legislative Meetings in D.C.
Arizona Realtors® Gather in Washington to Lay Groundwork for Future Policy Successes
Realtors® flooded Capitol Hill to meet directly with members of Congress and their staff to discuss the legislative and regulatory environment and its effect on residential and commercial real estate.
Read More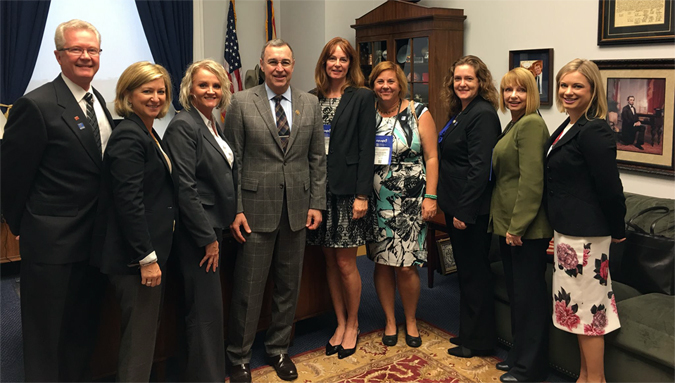 "We actually got to spend some time with Congressman Matt Salmon to discuss Arizona issues affecting home ownership," said Nicole Werner Hamming. Pictured l. to r. are Rick Padelford, Dawn Johnson, Hamming, Rep. Salmon, AAR Federal Political Coordinator Pam Frestedt, Keri Hoge Means, Liz Harris, Cathy Joyce, AAR VP of Government Affairs Nicole LaSlavic.
Watch Out for Inflation
NAR Chief Economist Lawrence Yun warned that when inflation picks up, mortgage rates will follow suit. Once mortgage rates start going up, which they could do as rental rates continue rising, sales will be hurt.
Read More
FAA on Track to Release Drone Rules by June
Federal Aviation Administration officials intend to publish long-awaited rules that will enable the general public to use small, unmanned aircraft for commercial activities before the end of spring.
Read More
Senator Warren Asks for Help from REALTORS® on Student Debt
U.S. Sen. Elizabeth Warren asked for support on a bill that would help ease crushing student debt. NAR will be looking at what policy position to take on the student debt issue.
Read More
New Tools to Get You in Front of Global Buyers
The National Association of REALTORS® and Realtor.com® unveiled interactive maps visualizing data on where international buyers are searching for property in the U.S.
Read More
Forecast for Commercial Regulations
NAR Senior Policy Representative Evan Liddiard was optimistic on the issue of real estate depreciation. "Republicans generally are backing off from strict deficit neutrality," he said.
Read More
Website Accessibility: Not Just About the Law
What accessibility means in practice isn't officially defined. The Department of Justice has yet to publish rules on the matter, but a consortium of companies has been working on guidelines for getting started.
Read More
HUD Secretary Julian Castro Touts FHA Changes to Condo Financing, Student Loan Debt
A rule under review at the Office of Management and Budget would help make condo financing easier to obtain and FHA is reducing the amount of deferred student debt that counts against a borrower's debt-to-income ratio.
Read More
Talking Points used during the 2016 REALTORS® Legislative Meetings:
Look for more stories from Capitol Hill in upcoming editions of the Arizona REALTOR® VOICE.
Capitol Hill
,
commercial regulations
,
condo financing
,
Congressman Matt Salmon
,
drone
,
drones
,
Elizabeth Warren
,
FAA
,
Federal Aviation Administration
,
global buyers
,
inflation
,
international buyers
,
Julian Castro
,
Lawrence Yun
,
legislative
,
Matt Salmon
,
mortgage rates
,
Nicole LaSlavic
,
Nicole Werner Hamming
,
Pam Frestedt
,
regulatory
,
Rep. Salmon
,
Sen. Warren
,
Senator Elizabeth Warren
,
student loan debt
,
talking points
,
website accessibility