Arizona REALTORS® Advance Key Housing Issues in Nation's Capitol
Members of the Arizona Association of REALTORS® joined nearly 8,500 constituents from across the country at the 2016 REALTOR® Legislative Meetings & Trade Expo that started May 9 in Washington D.C.
While on Capitol Hill, Arizona REALTORS® had the opportunity to meet with Sen. Jeff Flake, Rep. David Schweikert, Rep. Kyrsten Sinema, Rep. Raul Grijalva, Rep. Martha McSally, Rep. Ruben Gallego, Rep. Trent Franks, Rep. Ann Kirkpatrick, Rep. Paul Gosar, Rep. Matt Salmon and their staffs in order to advance and protect real estate-related policies.
The Legislative Meetings offered Arizona's Federal Political Coordinators (FPCs) and REALTORS® an opportunity to meet face-to-face with lawmakers and discuss issues that affect the industry and consumers' ability to buy, sell and invest in real estate.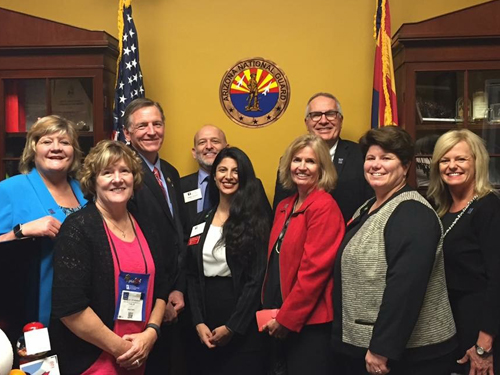 L. to R. – Mary Roberts, Shelley Ostrowski , Rep. Gosar, Evan Fuchs, Paula
Monthofer, LeAnn Carver, Craig Peck, FPC Holly Mabery, Maureen Buchanan
"Having the opportunity to meet with Representative Gosar and have an open conversation on issues that directly impact an individual's ability to own a home is critical to our industry," said Shelley Ostrowski, president of the Yuma Association of REALTORS®. "His ability to understand our issues and act on them on the Hill, and back in his district, makes all the difference to Arizona homeowners."
The meetings with Arizona's congressional delegation focused on residential and commercial real estate issues important to homeowners and investors, such maintaining the 1031 Exchange and the mortgage interest deduction as is, prohibiting G-fees from being extended, and the ability to provide access to affordable flood insurance.
In addition, each member of Congress was provided with a petition letter signed by their constituents, urging them to reject tax reform plans that would eliminate or marginalize the mortgage interest deduction for primary and secondary homes.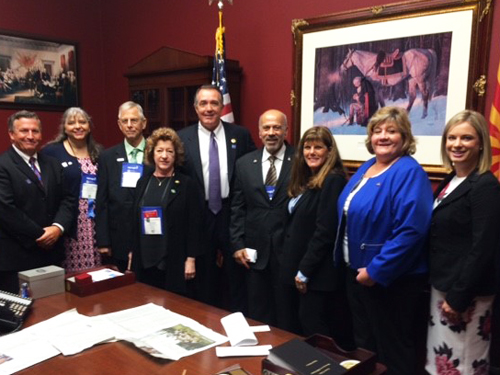 L. to R. – Rudy Soltesz, Vicki Cleman, Walt Patterson, FPC Jan Leighton,
Rep. Franks, Bill Ashker, Lori Doerfler, Mary Roberts, Nicole LaSlavic
During our meeting, Congressman Franks said, "Homeownership is a good for families and children" and "The REALTOR® contribution to this country is significant."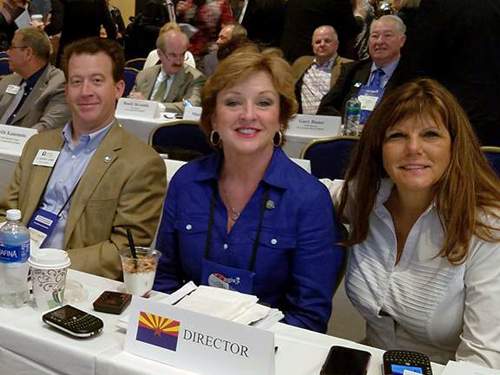 L. to R. – 2016 Arizona REALTORS® Treasurer D. Patrick Lewis, President Paula Serven and
First Vice President Lori Doerfler at the REALTORS® Legislative Meetings in Washington, D.C.
---
Related stories:
Highlights From 2016 REALTORS® Legislative Meetings in D.C.
FPCs: Arizona REALTOR's Critical Liaisons with Federal Legislators
Congress
,
Congressman
,
Congresswoman
,
Jeff Flake
,
legislative meetings
,
Martha McSally
,
Paul Gosar
,
Senator
,
Shelley Ostrowski
,
Trent Franks