Date/Time Box in eSign
A common question our eSign Support Team gets is how to select and show both the Date and Time or just the Time on a document you are setting up for signature in eSign.
When you add the Date/Time box to your document, eSign defaults this signature location to just the Date. You can change this by hovering over each individual Date box on your document until you see a Red X and a Gear Symbol. This Gear Symbol is your Options button. Clicking on the Gear Symbol will open the Options box that will show in the top right corner of your screen.
Please note that you need to do this for each individual Date/Time box you wish to change.
There is not a way to make the selection for the entire document at once.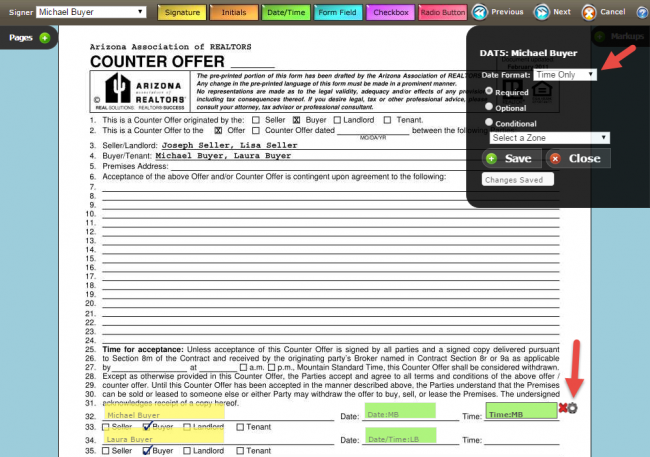 Select the Drop-Down Arrow in the Date Format box to see your options. Once you make your selection, be sure to click "Save" and then "Close".

You will now see on your document that the box will show you which option has been selected – Date, Time, or Date and Time. As always, you will see your Signer's initials in each box to alert you which of your Signers will be clicking on that box during their Signing Session.

If you need additional assistance, please contact Support@aaronline.com.
---

Rebecca Perks is a Business Application Specialist
for the Arizona Association of REALTORS®
.