Factors Driving Foreign Investment to Arizona
By guest blogger Cynthia Fauth
Most news stories of late support the narrative that international snowbirds are flocking out of Arizona, rather than in. While it's true that currency values and U.S. home prices have become cost-prohibitive for many, foreign investment in stateside real estate – particularly in Arizona – is alive and well.
We know that the collapse of oil prices adversely impacted oil-producing economies in Canada, Mexico, Brazil, Venezuela, and Russia — all of which were once home to major investors in U.S. real estate. This has caused currency values to favor our dollar. Combined with an increase in home prices, American properties are now more expensive than in years past. But that's just one side of the story.
There are still plenty of foreign buyers with the capital or motivation to purchase in the United States and Arizona remains a very attractive option for them.
According to the NAR 2016 Profile of International Home Buying Activity report, proximity to home country; presence of relatives, friends and associates; job and educational opportunities; climate and location appear to be important considerations in deciding where these buyers will purchase property.
Arizona meets these criteria, particularly for its most active buyers from Latin America, Europe and Canada.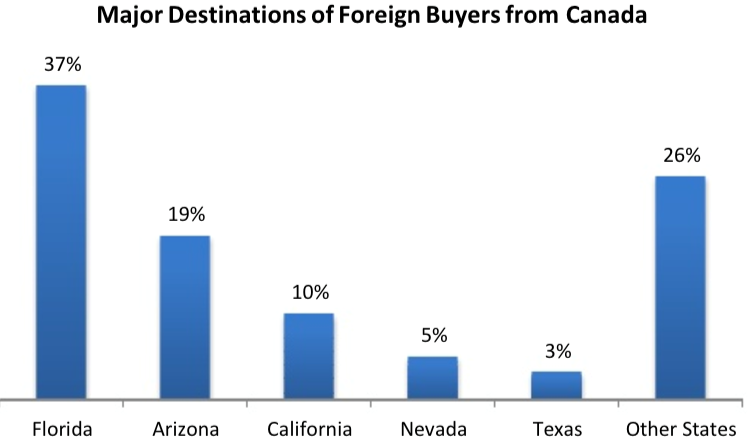 Source: NAR 2016 Profile of International Activity in U.S. Residential Real Estate
Canadian and UK buyers, who are often non-resident buyers, were more likely to purchase property for use as a vacation home and/or residential rental property for investment.
Among Canadian foreign buyers, 80-percent purchased the residential property for vacation purposes and/or investment purposes. Among UK foreign buyers, 43-percent purchased for vacation and/or investment purposes.
China, India and Mexico are predominantly resident buyers; more likely to purchase residential property for use as a primary residence, or for the use of a child studying at a U.S. university.
Stay tuned for more articles from NAR to learn what these buyers are specifically looking for and how you can build your marketing strategy to attract them.
In the meantime, subscribe to The Global View blog for more insights and information on international real estate.
---
Related story: Going Global? Understand These Gestures
Cindy Fauth (CIPS, ePRO) is Director of Global Marketing & Communications for the National Association of REALTORS® Commercial & Global Services division.
Canada
,
Canadians
,
Cindy Fauth
,
CIPS
,
foreign buyers
,
foreign investment
,
global marketing
,
international home buying
,
snowbirds