3Q2017 Home Affordability Improves in Arizona Markets
According to ATTOM Data Solutions, Maricopa County (Phoenix-Mesa-Scottsdale) was among the more affordable U.S. counties in the third quarter of 2017 compared to the previous quarter. The property data warehouse credits falling interest rates with offsetting rising home prices in most markets.
Home affordability in the third quarter improved compared to the previous quarter in 60 percent of 406 U.S. counties analyzed in the report — although affordability was still worse off than a year ago in 79 percent of those counties. – STLRealEstate.News (Oct. 5, 2017)
On average, Arizona's Top 8 most-populated counties became 8.25% more affordable than they were in 2Q2017. The average median sales price for 3Q2017 was $207,069 with Cochise County (Sierra Vista-Douglas) on the low end at $146K and Coconino County (Flagstaff) on the high end at $307,215.
Year-over-year, median home prices in these same counties grew 5.9% while the average weekly wage growth improved 7.6%.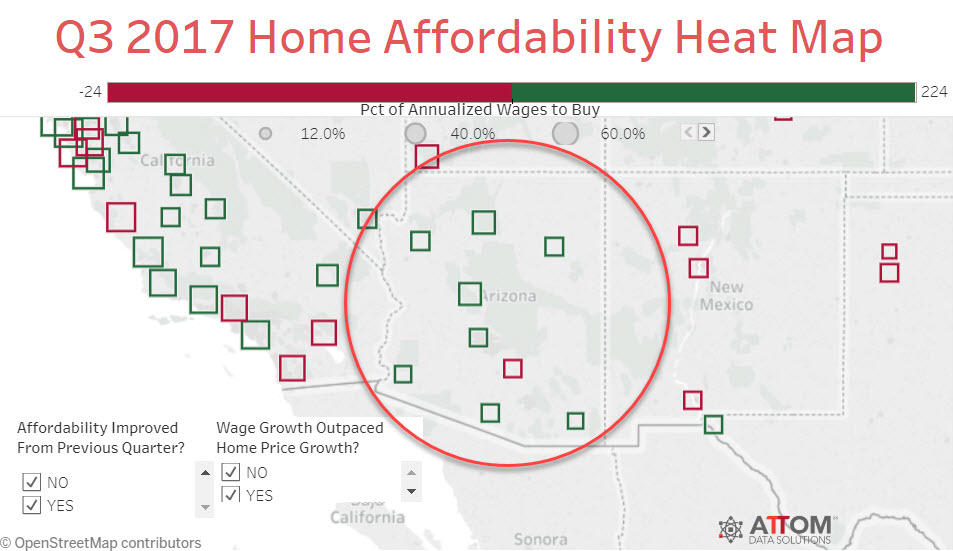 ---
Related stories:
5 Phoenix-area ZIP codes among top 25 for buying single-family rentals – Phoenix Business Journal (Oct. 18, 2017)
Sale and Contract Prices per Square Foot in 2016 – NAHB (Oct. 17, 2017)
ATTOM Data Solutions
,
home affordability
,
STLRealEstate.News