Arizona Water Issues Impact Housing, Economy
Despite monsoon season, Arizona is one of the driest states with Extreme (D3) to Exceptional (D4) drought conditions currently affecting a large swath the state according to the U.S. Drought Monitor (map below).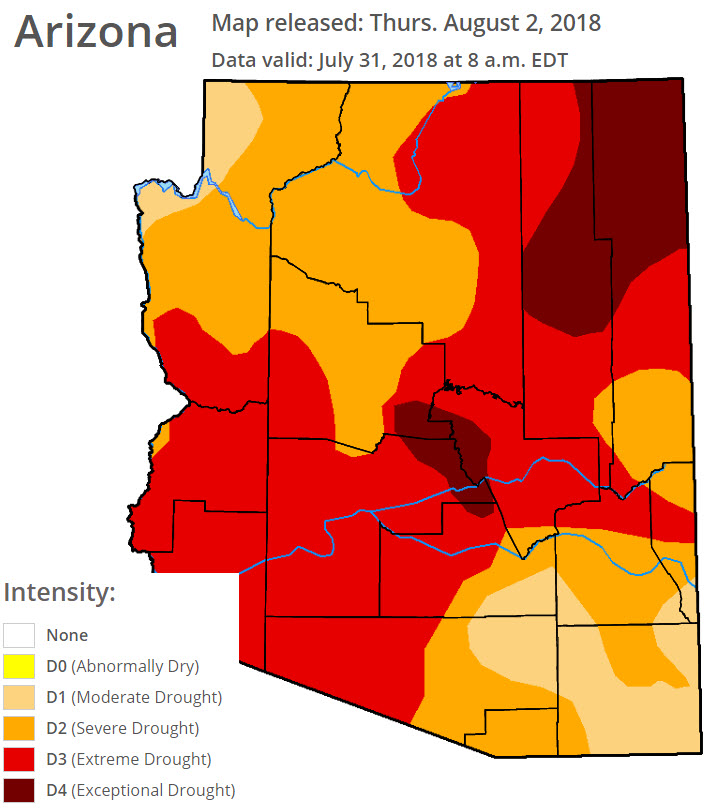 Drought brings with it more challenges, including
an increased risk of wildfires and a drain on water resources impacting housing developments.
New River residents are particularly sensitive to development. The community has had a water crisis since wells began drying up in the past few years. – Cronkite News (May 2018)
In a Grand Canyon Institute report, Dr. Karen Smith put it this way, "Industries requiring large amounts of water in their processes will have to pay increased costs, conservatively $1,000-$2,000/acre-foot for additional water supplies. One economist has projected this increased water shortfall of surface and groundwater will cost the Southwest as a region between $7 billion to $15 billion annually."
Startling Statistics
21: Number of years Arizona has been in a drought1
40: Millions of people whose water supply may be threatened by Central Arizona Project2
49: Percentage of water the Colorado River provides Arizona's agriculture3
57: Percentage of average water the Colorado won't carry into Lake Powell this year4
72: Percentage that Arizona's snowpack was below normal as of March 1st5
If Colorado River water is at risk, is Arizona groundwater the solution?
"Groundwater is, by and large, fossil groundwater," Sharon Megdal, director of the UA Water Resources Research Center, told the UANews this past spring.6 "It's been there for eons, and if we pull it out,
it's going to take eons for nature to replenish it."
Not willing to wait on Mother Nature, SRP is banking on the Granite Reef Underground Storage Project on Salt River Pima-Maricopa Indian Community land and the New River-Agua Fria River Underground Storage Project in Glendale to store water underground for future use. (Read more here.)
Meanwhile, some northwestern Arizona residents who celebrated cancelled plans by the Central Arizona Project board of directors to acquire water rights within Mohave Valley, say the fight isn't over yet. Opponents argue that rerouting a portion of their Colorado River water could be devastating to the local economy.
"Small groups of non-elected boards cannot be allowed to determine something as important as our water stability," said Lori Chambers, president of the Kingman Golden Valley Association of REALTORS®. "Our current and future growth of our county depends on our water."7
Perhaps Noah Mundt, president of Gilbert's Arizona Water Resources Municipal Property Corporation, summed it up best when he said in an editorial that, "The future of Arizona, and our ongoing ability to attract and retain businesses, depends on reliable, secure cost-effective sources of water."
---
Sources
1Droughts Are Growing Hotter Under Climate Change – KJZZ (Aug. 2018)
2Central Arizona Project Accused of Undermining Drought Plans – The Nevada Independent (April 2018)
3Economic Importance of the Colorado River – W.P. Carey School of Business (Dec. 2014)
4Alarming Drought Conditions Hit U.S. Southwest – The Denver Post (May 2018)
5Arizona Snowpack Near Record Low This Year – Cronkite News (Mar. 2018)
6Cape Town's Water Crisis: Could It Happen in Arizona? – UA News (Mar. 2018)
7Mohave County Wants to Keep Its Water – Kingman Daily Miner (June 2018)
Related Articles
Less water from Lake Mead in 2020, higher rates for consumers – Cronkite News (Oct. 2018)
Southwestern U.S. States Agree On Plan To Manage Overtaxed Colorado River – KJZZ (Oct. 2018)
Developers argue there's more water in the Colorado River Basin – Cronkite News (Sept. 2018)
The Water Wars of Arizona – The New York Times (July 2018)
As More Western cities Turn to Recycled Water, They May Have The Ick Factor – Cronkite News (Aug. 2018)
Recycled Wastewater Could Soon Be in Arizona – Water Deeply (March 2018)
Arizona Water Resources Municipal Property Corporation
,
Central Arizona Project
,
Colorado River
,
Dr. Karen Smith
,
drought
,
Granite Reef Underground Storage Project
,
GRUSP
,
Lori Chambers
,
NAUSP
,
New River-Agua Fria River Underground Storage Project
,
Noah Mundt
,
Sharon Megdal
,
SRP
,
water