"Personal Computers Are Here to Stay"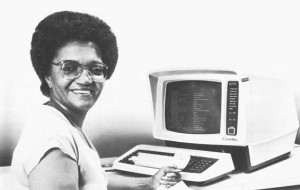 What a Look Back at REALTOR® Technology Articles Can Teach Us Today 
My husband is not interested in Facebook. He has a profile but never visits the site. He doesn't see the point. I tease him about this, and he reminds me of my early cell phone aversion. 
When cell phones arrived on the scene, I wanted nothing to do with them. Why would I want to be accessible to phone calls at all times? I held out until early 2001. Now my cell phone is my only phone. I am landline-less. 
The initial reluctance and gradual conversion to new technologies has always been a part of our lives. In a recent review of past issues of Arizona REALTOR® Magazine (or Digest, as it was called), I found some great articles on technologies that have become ubiquitous. 
Much of the language is similar to what we hear about new technologies today—both the "don't fall behind!" and "don't be afraid!" themes are thoroughly covered. More surprising, perhaps, is how far we still have to go to fully harness the power of these technologies to accomplish the "organizational and communicative abilities" promised in these early articles. 
Take a look for yourself. Here are some highlights from the technological past: 
---
From "Making Money Using Personal Computers" by David Wise

Arizona REALTOR® Digest
– May/June 1984 
Computers. The very word either causes a Pac Man-type grin or absolute, sheer, unadulterated panic… 
Personal computers are here to stay. Salespeople and sales managers who refuse to buy and learn to use computers will be far behind the times… 
[The personal computer] is designed to sit right on your desk, next to your ROLODEX® file and your telephone. 
Word processing…is about 85% of what will make money, pay for the computer and increase the production of the salesperson.  
From "Cellular Phone Links In-Car Terminal to MLS Computer Database"
Arizona REALTOR® Digest – July/August 1984 
A data transmission system using a mobile cellular telephone and portable computer terminal will give real estate agents in the metro Phoenix area access to the Multiple Listing Service database from their cars… "The cost of the cellular telephone, interface and terminal is under $4,000." 
From "The Computer: A Mind of Your Own" by Mark J. Burrell
Arizona REALTOR® Digest – September/October 1985 
Fire. The wheel. Telephones. Automobiles. These are all discoveries or inventions that mankind has survived and come to accept as an inevitable element of our lives. Along with adjustable-rate mortgages, the computer may be added to this list… 
To efficiently operate a personal computer today, you don't need to be a mathematical genius or have a degree in electrical engineering from Cal-Tech… The computer is (or can be) your friend. 
A well-organized and computerized business plan will not only increase your productivity and income, but also enrich your professional image. 
From "The Hard Facts About Software" By Mark J. Burrell
Arizona REALTOR® Digest – March/April 1986 
The computer automatically types a 'fresh' personalized letter to each client, just as if you were doing it yourself. 
Only the imagination of the user, and not the ability of the spreadsheet, is usually the limiting factor. 
From "Selecting Real Estate Accounting Software" by Pat O'Neill
 Arizona REALTOR® Digest – November/December 1986 
Purchase at least a ten million character (10MB) hard drive system—it is faster, more versatile and cost effective. 
Error recovery and hardware failure recovery systems—which hopefully will never have to be used—should be an integral part of the system. You should be able to toss your computer out the window and purchase a new one…without losing data. 
From "AAR's Website Debuts in April" by Ron LaMee
Arizona REALTOR® Digest – April 1997 
To find out more about any subject, all you will do is enter a few keywords into the Research Librarian. This "virtual person" will find every reference to your topic… To get a piece of information, you will click on it and, in seconds, see it on your screen. 
From "Technology Tools for 2000"
Arizona REALTOR® Digest – January 2000 
Personal digital assistants (PDAs) … have an average of 4 to 8 MB of memory, allowing REALTORS® to store such important information as calendars, names, addresses and phone numbers. 
Phones with voicemail, caller ID and paging have made life even simpler, eliminating the need to carry pagers and call in for messages. 
Virtual tours, made with images from digital cameras, [are] the up and coming technology for REALTORS®. 
Of all the technology tools, the value of [web pages] seems to cause the most controversy among REALTORS®… You have to work your site… "Spend the same amount of time on your Web site as you spend on farming, and you'll be successful."
The key is early, rapid response to [consumer] email. 
---
 What stands out to you from these blasts from the past? Share your thoughts in the comments below!
Arizona REALTOR Magazine