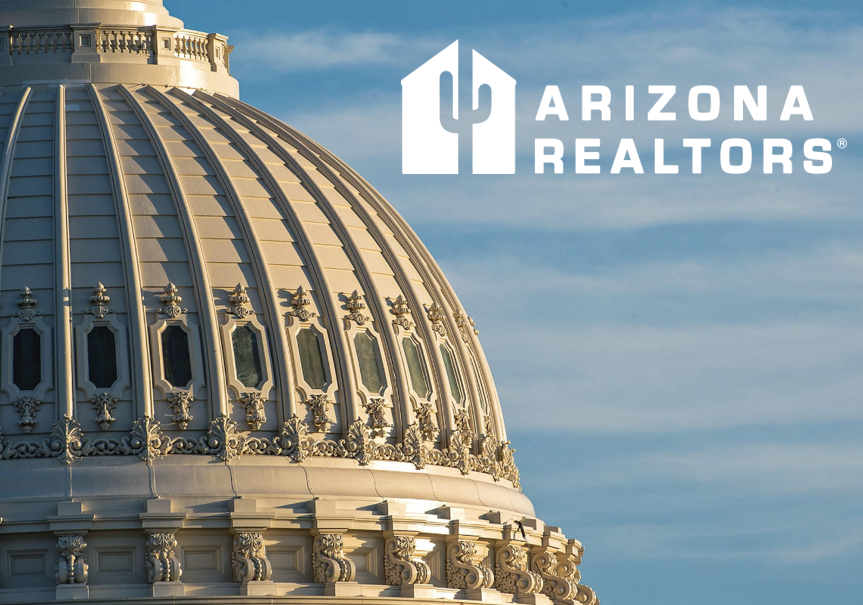 Though the Arizona Legislature is currently not in session, the National Association of REALTORS® continues to monitor activity at the federal level.  From risky mortgages and flood insurance, to short term rentals and water quality, your legislative and government affairs team has several updates to share.
During this week's National Convention, we will be meeting with representatives from NAR to get updates on issues we're currently focused on at the federal, state and local levels. We'll bring back reports from NAR policy committees, as well as receive updates on RPAC and Community Outreach programs.
The "Terrorism Risk Insurance Program Re-authorization Act of 2019," approved by the House Financial Services Committee, would reauthorize the Terrorism Risk Insurance Program (TRIP) for seven years.
The anti-money laundering (AML) legislation is designed to stop the formation of anonymous shell companies created under state law that are often used by bad actors to launder money or to commit other illicit financial crimes.
NAR published a joint op-ed to counter a growing narrative that the Federal government has expanded its exposure to risky mortgages.
CFPB Director Kraninger provided her semi-annual report to Congress to discuss current updates and developments at the Bureau. She also provided some insight on the qualified mortgage (QM) patch, stating that the Bureau is working on a plan as the transition to end the QM patch is forthcoming.
The Terrorism Risk Insurance Program (TRIP) expires at the end of 2020 unless Congress reauthorizes it.
The DC Circuit Court of Appeals upheld the FCC's decision but found that the FCC had overstepped its authority when it banned states from enacting their own net neutrality rules.
Senators Grassley (R-IA) and Leahy (D-VT) introduced the EB-5 Reform and Integrity Act of 2019, which includes reform and long-term reauthorization of the the EB-5 Regional Center Program.
Congress extends EB-5 Regional Center Programs authorization through November 21, 2019.
The Office of the Comptroller of the Currency, the Board of Governors of the Federal Reserve System, and the Federal Deposit Insurance Corporation (collectively "the Agencies") adopted a final rule increasing the threshold for requiring an appraisal in residential real estate transactions from $250,000 to $400,000.
The Internal Revenue Service this week released final guidance regarding a safe harbor to help owners of real estate enterprises determine whether they qualify for the new 20% deduction for "qualified business income."
H.R. 1595 creates a safe harbor for federally-insured financial institutions to provide services to cannabis-related businesses in states that have legalized the substance.
The House Financial Services Committee passed a number of NAR-supported bills to expand access to credit.
The Congressional Western Caucus, chaired by Rep. Paul Gosar (R-AZ), held a roundtable on 9/24 with several House members and officials from the Department of Interior to discuss a 19-bill draft legislative package they will be introducing to reform the Endangered Species Act.
NAR joined a stakeholder coalition letter to all Members of the U.S. Congress urging a long-term reauthorization of the Terrorism Risk Insurance Program (TRIP) before its expiration at the end of 2020.
There has been a lot of press coverage of a new bill introduced in the House that deals with short-term rentals.
NAR submitted a comment to the CFPB regarding its advanced notice of proposed rule making on the qualified mortgage rule "patch".
The Consumer Financial Protection Bureau (CFPB) held a press event in Atlanta to announce its new innovation policies and also to announce the opening of a new bureau office in Atlanta.
The legislation would overturn decades of Supreme Court precedent about indirect infringement and what it means to "induce infringement."
Previous Entries
Whataburger has collaborated with Rainbow Housing Assistance Corporation to form a community partnership at La Palmilla apartments, a 267-unit community in Phoenix. Whataburger is committed...
Let the journey begin! The Arizona REALTORS® is running a GRI scholarship contest during the final quarter of 2019! Attend your first GRI approved class...