In observance of REALTOR® Safety Month in September, the Arizona Association of REALTORS® (AAR) is launching an Agent Safety Alert Program or ASAP.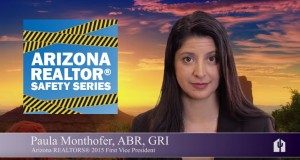 The focus on security started earlier this year with a series of REALTOR® Safety videos featuring AAR First Vice President and Safety Workgroup Chair Paula Monthofer. "We belong to the largest trade organization in Arizona," said Monthofer. "We have the numbers, the knowledge and the skillset to attack this in a more proactive manner."
Click image to see Safety Series videos
The safety workgroup created an incident alert system just for REALTORS®. Active AAR members can receive text alerts and post incident reports online. Prior to ASAP, the association shared safety alerts via social media and its members-only website.
"We want to do more than share safety warnings via social media," said AAR CEO Michelle Lind. "So, we decided to be more proactive in alerting Arizona REALTORS® of potential hazards." Lind was one of four safety panelists at the August 2015 National Association of REALTORS® Leadership Summit in Chicago, IL.
"Sidney Cranston was a member from 2005 to 2014," Lind recounted to more than 1500 Association executives. "He went to show one of his own properties and unfortunately didn't inform anyone about the potential buyers he went to meet." Cranston mysteriously vanished after that meeting in Kingman, AZ on June 16, 2015.
Click here to see video from the REALTOR® Safety Panel at the 2015 Leadership Summit.
{ 0 comments }