Arizona REALTOR® Business Interface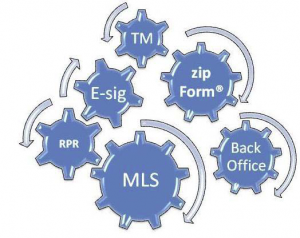 An Arizona Association of REALTORS® Project
Introduction
AAR is pleased to share this vision document as part of an ambitious project we are discussing:  the Arizona REALTOR® Business Interface and statewide MLS. This information is part of an ongoing dialogue between AAR, industry partners and leaders about how to bring you, the professional member, the best integrated listing data resources and technology tools in one place to assist your productivity.  We look forward to hearing your thoughts.
Vision: Making the process speedy, simple, secure and seamless.
Brainstorming
What if the Arizona Association of REALTORS® (AAR) electronic forms, transaction management and digital signatures were in one place with your MLS data on your computer's desktop and the data flowed seamlessly between those services saving you time and reducing the risk of missing a field or making an error? What if you could use your laptop, tablet, smartphone or your favorite device to connect to electronic forms, property information, document management, digital signatures, REALTORS® Property Resource (RPR), transaction management and your back-office system? What if you had access to the latest tools and technology "apps" in one place, with one login, accessible from anywhere? The Arizona REALTOR® Business Interface (ARBI) aims to do that – and more.
AAR's Partnership with Local Associations and MLSs to Produce a Better Transaction Solution
We recognize that the local or regional Multiple Listing Service (MLS) is a valued association member benefit. AAR currently provides several valued transaction tools that benefit members' businesses, including electronic forms, transaction management and, very soon, electronic signatures. This project seeks to create a partnership between AAR and participating local associations to work together to best serve our mutual members.
Statewide MLS and the Arizona REALTOR® Business Interface (ARBI)
Our objective is to create an integrated business system that incorporates an MLS to serve all of the members in Arizona. A uniform profile sheet for each category will enable tight integration with electronic forms, e-signatures, transaction management, broker back-office systems and one source of data for all property listings in Arizona. A member can enter a listing one time, expose their listings to all of the professionals in the system and search all of the listings, tax information and other content—without restrictions and for just one fee.  The current MLS infrastructure does not support this. However, we know that this capability and technology exist, and we are exploring the best way to make this a reality right here in Arizona. We will invite all local associations to migrate to the new integrated business system and MLS in place of their current MLS system and related costs. The goal is a statewide MLS that would be part of a bigger vision, the business transaction interface.
There will be no mandates to associations and/or MLSs. Those associations and MLSs who choose to will work with us to develop the new business interface and MLS system. Early adopters (associations or MLSs) will influence the development of the new system in terms of data-fields, reports and business rules. It is anticipated that the new MLS will be based on an existing MLS platform that the majority of AAR members already use. Through this effort, we anticipate providing access to ARBI and the new MLS to more than 90% of AAR's members.
Open Standards to Produce Products that Work Together
Through the use of open standards, ARBI will expand its offerings to our members by working with innovative third-party vendors to create "apps" for the real estate practitioner available via ARBI. To provide seamless and tight integration between products, the third-party vendors will develop their products based on standard Application Program Interface (API) guidelines. The products will then "plug and play" with the other products contained in ARBI. The use of open interfaces will ultimately benefit our members with competitive products, increased innovation and lower costs. Vendors will be motivated to promote and deliver their best solutions in Arizona based on the number of members they can reach through the interface, the lower cost of sales and our ongoing commitment to data standards that make it easier for everyone.
Past and Ongoing Progressive Statewide Efforts Are Successful
AAR, in partnership with our local associations and statewide membership, has enjoyed many successes from electronic forms to transaction management, legislative accomplishments to Legal Hotline access, professional standards programs to ballot measure efforts that amend the state constitution. A more tightly integrated business system and MLS will enhance our members' ability to work efficiently and to close transactions easily on behalf of their clients.
Change Is Here to Stay
Change is never easy, but we acknowledge that it is a part of our reality. While focusing on our vision for ARBI, we know that progress such as what we are proposing will take commitment, compromise and money. There will be challenges and changes in how we roll out the new solutions. Today's economic climate lends itself to countless opportunities, but it also demands great prudence on the part of leadership. The business plan will outline a step-by-step process so that we can manage risks and start-up costs. We will measure and report on the benefits and our success to keep everyone well informed of our progress.
Conclusion
An integrated business interface that provides members with greater efficiencies to conduct their business transactions is long overdue. An environment that delivers what the members want, rewards innovation, tightly integrates our best products and embraces the newest technology is within our grasp. We must take sensible steps first in order to achieve a successful outcome. Each of you has the opportunity to be on the forefront of these exciting changes. AAR will deliver a practical business plan at AAR's Board of Directors meeting in March 2011. Our plan is bold: To embrace the latest open standards, utilize the current and proven technology, and create the next generation system for Arizona REALTORS® through the Arizona REALTOR® Business Interface.
Arizona REALTOR® Business Interface (ARBI)
,
statewide MLS
,
Tom Farley