Pinning & Starring Posts on Your Facebook Page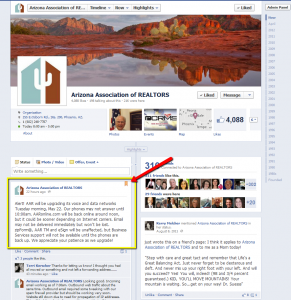 Do you have a Facebook page for your business? Have you pinned or starred a post on your timeline?
Pinning. Since the rollout of the timeline design for pages this spring, page administrators have the ability to "pin" a post to the top of the page. Today, AAR faced a phone, email and Internet outage that would make it difficult for members to reach us. We wanted to get the word out ahead of time via Facebook but didn't want the notice to get lost in the stream of subsequent posts. So we pinned it!
As you can see in the image above right, a pinned post is marked with an orange flag. (Click on the image to view a larger version.) A pinned post will stay at the top of your page for 7 days–or until you unpin it. Only posts from a page administrator can be pinned.
To pin a post, mouse over the upper right corner of a published post, click on the pencil and select "Pin to Top." You can easily unpin it in the same spot.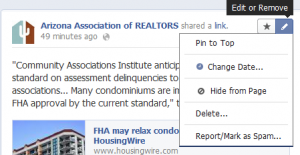 What might REALTORS® pin on their Facebook pages? If you're looking for sellers in today's market, perhaps you'd pin a post that says "Find out how much your home is worth today!" with information about requesting a no-obligation CMA for the consumer.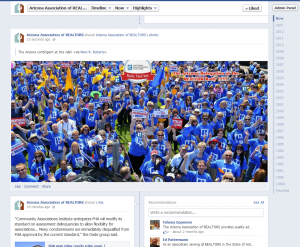 Starring. Pinning is not the same as starring (aka highlighting), and you cannot both star and pin a post. If you choose to star a post on your page, it stretches it to fill both columns. (You can also star a post on your personal profile.) In the picture to the right, you can see a post that AAR starred–a picture from last week's REALTOR® Rally in Washington, DC. Posts with images or video are especially good choices for starring.
To star a published post, mouse over the upper right corner and click on the star. To remove the highlight from the post, simply click the star again.

A REALTOR® might use the star feature to highlight a testimonial from a satisfied buyer along with a picture of the buyer  in front of the home (with permission, of course).
Audience. Facebook users will only see pinned and starred posts when they visit your page; this will not affect how your posts look in their newsfeed. Since those who have already liked your page are more likely to see your posts in their newsfeed rather than by revisiting your page, it may make sense to target your starred and pinned posts at new visitors to your page. If you send out an email to your sphere and ask them to like your Facebook page, be sure that you have a strong post pinned to the top and a great image or video starred that will appeal to these new visitors.
You can view these examples on AAR's Facebook page. And you can learn more about pinning and starring in the Facebook help center.
If you have a Facebook page for your business, try out these simple tools and let us know how they work for you in the comments below.
facebook page
,
highlight
,
pin
,
posts
,
star