Rising Stars in Real Estate: Mark Captain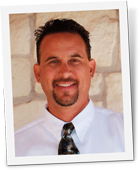 Mark Captain
Keller Williams Legacy One | Chandler
Licensed July 2010
www.teamcaptainaz.com
Mark Captain says he's not a sales guy: "I'm not even an extrovert!" And yet the success he has had early in his real estate career has been all about getting out and making deals happen. Being a rookie in a difficult market, he says, taught him to do things the right way: door knock, network, make phone calls. "Who cares where the housing market was in 2005?" says Captain. "Think like a rookie, forget the past and create your good ol' days right now."
He drives neighborhoods and looks for FSBOs. "I'm not afraid to call them and ask them what their plan is," he says. He also reaches out to those whose homes are scheduled for auction, first by dropping off a flyer that compares the pros and cons of short sales versus foreclosures, then by knocking on their door and explaining how he's helped their neighbors. "I don't put on a big sales job," says Captain. "I'm natural. I talk to people and just try to be helpful and sincere."
"You can't be afraid to ask for business," he advises. Real estate has to be in your vocabulary at all times, whether you overhear a conversation about real estate while sitting in a restaurant or notice someone with a Minnesota license plate who looks lost. "Talk to them," says Captain. "You must be willing to help others. Treat them better than you expect to be treated."
"You have to believe you can achieve," Captain says. "I'm not sitting in the office waiting for phones to ring. I'm out doing what I can to get in touch with those who might be looking to buy or sell."
---

Smart Start – Resources for Rookie REALTORS®
If you're a new agent—or an experienced agent looking to get back to basics—be sure to visit aaronline.com/startsmart. This page is full of resources for new agents, including an excellent video series that walks rookies through some of the most important tasks of the first 60 days in the business.
---

This is one of eight rising star profiles included in the July issue of Arizona REALTOR® Magazine.