Rising Stars in Real Estate: Jennifer Luzzi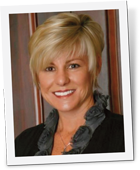 Jennifer Luzzi, SFR
Keller Williams Arizona Living | Lake Havasu City
Licensed February 2009
www.buyandsellhavasuhomes.com
In 2009, Jennifer Luzzi found herself a single mom with three boys. She had experience in sales, and because her father was a general contractor, she understood homes and construction. A career in real estate offered an opportunity to work for herself and still pick her kids up from school everyday.
"Relationships have driven my business."
Luzzi credits her early success to her 18-year tenure in Lake Havasu and the relationships she's formed. She has been involved with most of the youth sports in town, from football to baseball to basketball to hockey. She has also been active with city advisory boards and the Chamber of Commerce, including a two-year leadership program at the chamber. "I'm very grateful to be in a small community," she explains. "Relationships have driven my business."
In Havasu, a lot of the business comes from second (or third or fourth) home buyers, which can be challenging. "Buyers are not very motivated, and a lot of the work with sellers must be done remotely rather than face-to-face," says Luzzi. "The key is follow up, follow up, follow up. Stay on top of your transactions and your database."
"As REALTORS®, we are ambassadors for our city, so it is imperative that the people we come in contact with have a good experience," Luzzi notes. "Maybe it's because we are in a small town, but I've been very fortunate to work with some wonderful people."
---
Smart Start – Resources for Rookie REALTORS®
If you're a new agent—or an experienced agent looking to get back to basics—be sure to visit aaronline.com/startsmart. This page is full of resources for new agents, including an excellent video series that walks rookies through some of the most important tasks of the first 60 days in the business.
---
This is one of eight rising star profiles included in the July issue of Arizona REALTOR® Magazine.