Rising Stars in Real Estate: Jerimiah Taylor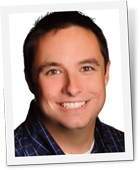 Jerimiah Taylor
Keller Williams Southern Arizona | Tucson
Licensed November 2004
www.jtaylorrealtor.com
Though Jerimiah Taylor was first licensed in 2004, he focused on his mortgage business. When he saw diminishing opportunities as a mortgage broker, he committed to a career as a full-time real estate agent in 2010.
Taylor, a self-described nerd, concentrates on generating business online. He has three core websites: one for buyers (justlistedintucson.com), one for sellers (nobodydoesmore.com) and a general site (listed above). "We've seen huge growth through the Internet and are bumping up on 1,000 leads per month," he reports. Consequently, he's grown his team to include three administrative staff members and six buyer's agents.
"We have a business plan and a set budget," explains Taylor. "Our operating expenses never exceed 30% of our gross commission. That gives us 70% to reinvest in stuff like radio, TV and print advertising." The message of his current radio spot and upcoming TV ad is: "Interview one of my competitors before you hire me, and I'll give you $500 off my marketing fee because I want you to be 100% certain that nobody does more to market and sell your home than the Jerimiah Taylor team."
"Time on task over time is the key to success," affirms Taylor. "Some people are amazing telephone prospectors. Some are amazing Internet lead generators. But it's because they do it every day. It's like the gym—go one day and you're sore, miserable and don't want to go back. But if you pace yourself and commit to going every day for 30 days, you'll break through to that point where you find your rhythm and build habits."
The best advice Taylor received as he was getting started? "If your friends aren't laughing at your goals, your goals aren't big enough."
---
Smart Start – Resources for Rookie REALTORS®
If you're a new agent—or an experienced agent looking to get back to basics—be sure to visit
aaronline.com/startsmart
. This page is full of resources for new agents, including an excellent video series that walks rookies through some of the most important tasks of the first 60 days in the business.
---
This is one of
eight rising star profiles
included in the July issue of
Arizona REALTOR® Magazine
.