Rising Stars in Real Estate: Marina Mayhew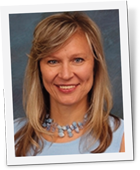 Marina Mayhew, SFR
Long Realty Company | Tucson
Licensed in July 2009
marinam.longrealty.com
When the non-profit where Marina Mayhew had worked for 15 years closed, a friend suggested she consider real estate. "I decided to take real estate classes primarily to learn about the field," she says. "But I found that I absolutely loved the logic of it."
"I had a lot of success in the past. With real estate, I knew that I was starting from scratch," she says. Three traits helped her succeed. First, perseverance: "I was able to manage my aspirations, start from the bottom, go to work and do a good job every day." Second, humility: "I knew that I didn't know much but that I could ask questions and learn from people willing and able to teach me." Third, passion: "I study real estate in my downtime, carry around law books and read industry magazines before bedtime."
Mayhew recognizes that there is no one formula for success in real estate. Everyone uses their unique qualities—whether they're Internet skills or personal relationships—to make this career work for them. "I became more successful when I realized that for me, real estate is a good synergy between art and science," she says. "The science is knowing the statistics, inventory, pricing and the contract. The art is managing client expectations, vendor relationships and my own time."
Born in Siberia, Mayhew has been in Tucson for 21 years. "I'm well traveled, but I find Tucson to be very unique. It's a small big town, and I love it here," she says. "I think that when you love where you are and what you do, it comes naturally to share it with prospective clients. I'm not selling anything. I'm just sharing my enthusiasm."
---
Smart Start – Resources for Rookie REALTORS®
If you're a new agent—or an experienced agent looking to get back to basics—be sure to visit
aaronline.com/startsmart
. This page is full of resources for new agents, including an excellent video series that walks rookies through some of the most important tasks of the first 60 days in the business.
---
This is one of
eight rising star profiles
included in the July issue of
Arizona REALTOR® Magazine
.