Rising Stars in Real Estate: Jeff Ross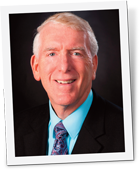 Jeff Ross
Realty Executives of Flagstaff
Licensed July 2009
www.allflagstaffhomes.com
During 25 years in retail, Jeff Ross got to the store before anyone else and worked late into the evening. As he evaluated a second career, he knew that he was motivated and didn't need to work for somebody else to do well. "Real estate fits well with my work ethic," he says.
"I'm up at 4:10am, I go to the gym and I'm at work before 7:00am," Ross explains. "If there are days when I don't have a lot to do, instead of going home or going golfing, I work on generating contacts and filling my pipeline." His outreach includes community service on the board of directors for the Chamber of Commerce and the statewide board for St. Mary's Food Bank.
"Real estate fits well with my work ethic."
Beyond work ethic, Ross credits his success to two key components. The first is staying in touch with his sphere: "I have a contact management system that is very good and not that expensive," he says. "All my contacts go in there. It reminds me when to call people, reminds me of tasks I need to do for them, and generates an e-newsletter to a list of 1,500 people (and growing)." The second component is follow-up: "If a client asks me to do something for them, I owe it to them in a timely manner. My goal is to follow up before they feel I should be back to them."
"Another broker in town asked me who I was working on a team with. 'Nobody,' I said. 'Why?' he asked. 'Because I'd be upset all the time that I'm sharing part of my commission with somebody who's working less hard than me,'" explains Ross. "I'd love to have the help, but I don't want to be upset all the time."
---
Smart Start – Resources for Rookie REALTORS®
If you're a new agent—or an experienced agent looking to get back to basics—be sure to visit
aaronline.com/startsmart
. This page is full of resources for new agents, including an excellent video series that walks rookies through some of the most important tasks of the first 60 days in the business.
---
This is one of
eight rising star profiles
included in the July issue of
Arizona REALTOR® Magazine
.