Rising Stars in Real Estate: Maria Shaffer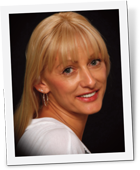 Maria Shaffer, ABR, BPOR, SFR
Bullhead Laughlin Realty | Bullhead City
Licensed March 2009
www.mariashaffer.com
Following cancer diagnosis and treatment, Maria Shaffer was determined to find something that she would enjoy doing for a living. "Real estate came up when we bought our house," she explains. "I had two great REALTORS® who made it easy and fun for us." She was sold.
Originally from Hungary, Shaffer faced the extra challenge of tackling real estate school in her second language. "Maybe for people who were born here, these were normal words, but I didn't know what things like easement meant," she says. (Of course, plenty of native speakers are thrown by words like that as well!)
Shaffer relishes the opportunity to learn every day and feels that success in real estate comes down to how you manage challenges. "Transactions can get lost or fall out of escrow, and a lot of people don't look at it like, 'How can we solve these problems?' They're too busy blaming the other party," she notes. "I try to find solutions and learn from the problems because while it can be a negative right now, it could be a positive in the future. I have learned a lot from challenging situations."
She never loses track of what got her into this field in the first place and donates a portion of every closing to a local cancer center. Has real estate lived up to its promise? AAR asks. "Yes! Now it's hard for me to separate my regular life and business because I really enjoy what I'm doing," reports Shaffer.
---
Smart Start – Resources for Rookie REALTORS®
If you're a new agent—or an experienced agent looking to get back to basics—be sure to visit
aaronline.com/startsmart
. This page is full of resources for new agents, including an excellent video series that walks rookies through some of the most important tasks of the first 60 days in the business.
---
This is one of
eight rising star profiles
included in the July issue of
Arizona REALTOR® Magazine
.