MHA "All About Short Sales" Webinar and more…
Making Homes Affordable (MHA) continues this year's webinars and outreach events in November.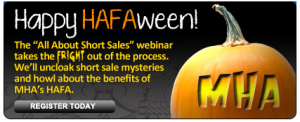 Register today for the November 2, 2012 workshop/webinar, "All About Short Sales." This two-hour training session uncovers what real estate professionals need to know to do a short sale more efficiently in today's marketplace. Hear directly from Bank of America, CitiMortgage, GMAC Mortgage, JPMorgan Chase, and Wells Fargo on how to get short sale offers approved, navigate the process more smoothly, and get help with difficult cases. Participants will also hear from Treasury about Making Home Affordable's HAFA program. Note: This session is not open to homeowners.
Check out more hot topics and events MHA offers.  Are you up to date on HAMP's Expanded Affordability Range, which went into effect June 1, 2012?  Now, homeowners whose debt-to-income ratios would have prevented them from qualifying may now be eligible. Read more about this and other guidance changes designed to help more homeowners in the Making Home Affordable Handbook. 
More good news, Homeowner Equity Jumps 5.9 percent in Q2 2012. According to the U.S. Department of Treasury, rising home values have brought homeowner equity to its highest level since the third quarter of 2008. Additionally, the number of underwater homeowners has declined by 11 percent since the end of last year. Read more in the September 2012 Housing Scorecard.  
Industry Seeing Increase in Principal Reductions. The terms of the $25 billion National Mortgage Settlement between the five largest mortgage servicers, the Federal government, and 49 state attorneys general have caused servicers to increase their use of principal reduction. Of all non-GSE loans that were eligible for principal reduction and started a HAMP trial in August 2012, 81 percent included a principal reduction feature, including 63 percent through HAMP's Principal Reduction Alternative program. Find out more in the latest MHA Program Performance Report.