Read the December Issue of Arizona REALTOR
Isn't Arizona REALTOR® magazine really the gift that keeps on giving the whole year long? We think so. The December issue of the magazine is out and it is full of great information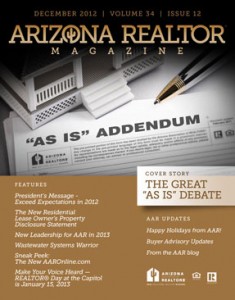 – too big to fit under the tree. (So, be sure to check your email inbox.)
This month, we take a look at the great "As is" debate and answer what can and can't be requested. We also get to know Lowell Fagen, a REALTOR® in Prescott, Ariz. who was recently honored for his tireless work in helping homeowners with on-site wastewater systems. We also feature an inspiring message from 2013 AAR President Sue Flucke – who encourages us all to exceed expectations in the year to come.
Denise Holliday of Hull, Holliday & Holliday, PLC provides an in-depth look at the new Residential Lease Owner's Property Disclosure Statement and what must be disclosed. We also give some great answers to your burning questions about Bed bugs, Buyers Inspections, advertising and more in the Legal Hotline (Note: you'll need to login to view.)
We hope you enjoy the issue.
From everyone at AAR, we wish you all a very Happy Holidays and a Happy New Year!
Note: The PDF version of Arizona REALTOR  is not available in December, as we're preparing to launch the new AAROnline.com. Stay tuned.