The January Issue of Arizona REALTOR® magazine is out!
Happy New Year! We hope that this year is already treating you well and that you're keeping all your New Year's resolutions.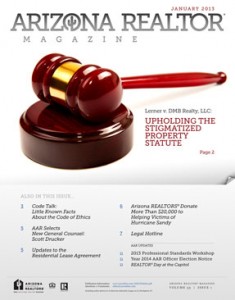 This issue of the Arizona REALTOR® magazine is only available in a PDF. We're so close to revealing the new AAROnline.com that we decided to only offer one version of the issue this month. Thank you all for understanding.
This month, we get the deals of the groundbreaking Lerner V. DMB, LLC case – straight from the source. We also celebrate the Code of Ethics by showing off it's quirky side and we delve into the most recent updates to the Residential Lease Agreement.
The biggest news is that AAR has a new General Counsel, Scott Drucker. Make sure to say hello next time you see him!
Don't forget, AAR's annual REALTOR® Day at the Capitol is January 15. If you didn't have a chance to register online, you can still register on-site the day of. It's a great chance to have your voice heard by our senators and legislators. And this year, we have NAR Chief Economist Lawrence Yun and NAR Chief Lobbyist Jerry Giovaniello speaking at the event.
We hope you enjoy the issue and have a great January.