Three Ways Your Staff Meeting Can Bring New Blood to Your Biz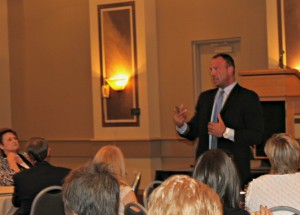 At Monday's Broker Summit, speaker Jon Cheplak, co-founder of The Real Recruiter, spoke to a room full of Arizona brokers and managers about how to recruit and retain today's top talent. Surprisingly, most of it hinges on a successful staff meeting. Here are his tips for brokers and managers:
Start on-time. This may seem like a no-brainer, but Cheplak says that making sure that staff meetings start promptly at 9 a.m., rather than 9:05 a.m. is important. "It shows your team that this is important to you, and important to them," said Cheplack. He also adds that staff meetings should last no longer than one hour.
Follow a specific structure. Cheplak suggests following a specific structure to stay on task and on time. Cheplak's structure is simple, "Dedicate the first 20 minutes to administrative items: wants and needs, or general housekeeping items." The second 20 minutes should be dedicated to training. But, not just any topic; a timely topic.  Cheplak suggests that brokers and managers should listen to the issues that agents are facing during from week to week and present a topic that addresses their current needs. "If you've addressed several issues dealing with listings the week prior, that's your presentation topic." The last 20 minutes of the meeting should be dedicated to recognition and rewards. "Don't just acknowledge listings and sales," says Cheplak.  "Recognize agents that are out serving in their community or agents who have helped in recruiting new agents to your business."
Follow-up. Cheplak suggests that brokers and managers start planning the next staff meeting the minute their staff meeting ends. And follow up with your agents afterwards. "I suggest that you ask each person what they took away from today's meeting and how will they implement it," says Cheplak. "Then, I follow up with them to see how they are progressing."
What do staff meetings have to do with recruiting? Cheplak says that the key to successful recruiting is your culture. But, culture is something that can't be explained, it must be felt. Once you've got your staff meetings down, a culture of "fun, love, integrity and respect" will emerge. And your agents will be happier and more successful, and that will draw others to you.
What was your biggest take away from the Broker Summit?
Broker Summit
,
John Cheplak
,
recruiting
,
sales meetings