Resources Available for March 31 Affordable Care Act Deadline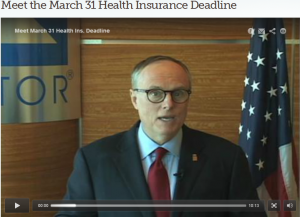 The March 31 application deadline for  the Affordable Care Act is just one week away.  NAR President Steve Brown has posted a 10 minute video that answers most questions REALTORS® might have, including how current plans are affected, exceptions which you might have and how to use the REALTORS® private exchange.  The video is available here: http://www.realtor.org/videos/meet-the-march-31-health-insurance-deadline.
After hearing about all the problems with HealthCare.gov, I went online to see how the NAR REALTORS® Insurance Marketplace worked.  I was pleasantly surprised to move smoothly through the site.  After providing my NRDS number, birth date, gender and household income, I was shown 18 different plans for Arizona.  I've heard that some plans don't include doctors in your specific vicinity, so I used the "Find Doctors" link on several plans.  I found one plan with only 5-6 doctors in places like Bullhead City, Sierra Vista and Payson, while another had dozens — it's important to check!
Time is running out, so take a few minutes to look at President Brown's great video to help you decide what to do.
ACA
,
REALTORS Insurance Marketplace