Belly Up to the AAR Genius Bar at the AAR Spring Convention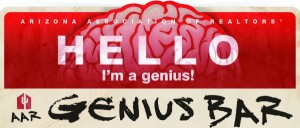 In today's world, it's easy to ask your favorite search engine what apps are best for real estate agents. Or ask your colleague for his thoughts on buying a Mac vs. PC. But, when it comes right down to making the decision or troubleshooting issues that arise, you're often left to your own devices. What if you need more help?
The solution: a trip to the Genius Bar at the Arizona Association of REALTORS® (AAR) Spring Convention.
During the convention, AAR will feature hands-on demonstrations and opportunities to spend some one-on-time with Arizona's leading real estate professionals, who will help you get a handle on everything from how choose the best apps for your needs (and your device) to ways to streamline your marketing presentations; to taking the first step in going truly paperless and ways to use the Internet to find new clients for you.
Who will be there?
Wednesday, April 16 | Hours 1:15 p.m. to 3:30 p.m.
Terry Nolan, Joeann Fossland, Nick Bastian, Dane Briggs, Sasha Lopez, Nobu Hata, Bill Risser, Kerry Melcher, D. Patrick Lewis, Holly Mabery and Evan Fuchs will be on-hand throughout the day to help AAR members with hands-on demonstrations like:
How to prepare mobile buyer or listing appointments;
Social media and relationship building;
What business trends and technology should you prepare for?;
Using Evernote for your business;
How to use zipForm®mobile; and
Mastering a paperless workflow on a Mac
Thursday, April 17 | Hours 9:45 a.m. to 5:00 p.m.
Meet the Thursday breakout speakers at the AAR Genius bar after each session to ask more in-depth questions or get one-on-one help.
Access to the AAR Genius Bar is included in your registration fee. Full-convention passes are $179 and one-day passes are $79. Register today!
#AARConv