Things To Be Aware of When Talking with Active Military Service Members and Vets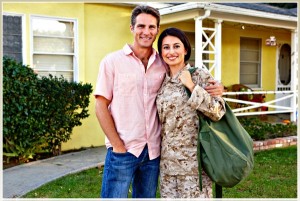 Did you know that there are over 1.43 million active duty service members, 1.5+ million Reservists & National Guard members, as well as 20 million veterans throughout the United States? There are over 101,000 personnel in Arizona alone*. The veteran population in the U.S. is almost 1/6th of our total population – providing a huge opportunity for real estate professionals. Engaging military service members and their families for each stage of the home buying process and working wIth the unique challenges and opportunities presented, is a viable opportunity to make a huge difference in the lives of our military and ultimately give back.
According to NAR, approximately 70% choose private sector homes for their housing needs.  Real estate transactions for relocating military personnel are unique in many aspects. The time frame can be significantly compressed, as well as time constraints and the possibility of deployment before the close of escrow.
Military Relocation Professional (MRP) Certified Instructor, Stacey Onnen, shares these 10 Things To Know When Working with Military Families:
They are decisive and used to making fast decisions.  They will come in town and power shop.
Very technologically savvy.  Esign etc is  perfect for them.
Prepared. They do their online research on the neighborhoods and the transaction and come prepared with questions.
When changing military stations they need guidance the most.  They need an agent's help with transitioning to a new community, help with kiddos etc.
Great buying power with VA Loans and usually come prequalified. (Less than 15% of veterans have taken advantage of VA loans).
They are logical thinkers and understand the need for forms, signatures and keeping deadlines.
As in the real estate industry, service members use acronyms A LOT.  Be sure you understand proper meaning, usage and pronunciation.
VA benefits are updated continuously and not available to all veterans. Eligibility is based on time spent on active duty and their character of service.
A DD-214 (Department Of Defense form) needs to be provided to the lender, which will specify service dates in order for the lender to obtain a Certificate of Eligibility (COE) directly from the VA. (This is the first step in securing a VA loan)
In addition to the VA loan, the VA has 3 grants (not loans) available to disabled borrowers (to create wheelchair accessibility, mobility (because of blindness or loss of both hands or arms), and temporary living in a home owned by a family member.)
If, as a real estate agent, you've worked with service members and their families in the past, then you know that it can be a very rewarding experience. What's your "go to" resource when you're working with service members and vets?
Learn more about this unique niche by taking AAR's Military Relocation Professionals (MRP) certification course coming up in October or online.
Additional Resources: VA Homes Loans Underused
Statistics provided by: USMilitary.about.com
Calie Waterhouse
,
Military housing
,
MRP