Open House Promotion on Facebook
How often has this happened to you? You have a new listing and you need to generate some buzz. Your client wants you to hold an open house. Sounds like a good plan. You set up the open house for the next weekend, Saturday and Sunday. The weekend comes and you set out your open house signs, you let your network of real estate agents know, you even create flyers to hand out, and you have minimal traffic. Why is this? Open houses are a great way to generate buzz and let interested buyers ask questions about the home. So how do you generate buzz and get more potential buyers in the door?
Use Facebook to Help Promote Your Open House
We have all heard about the power of social media. Everyone has been told the importance of having a Facebook page, so I am going to spare you with these facts and figures. What I want to show you is how to use your Facebook page to promote your open houses effectively. Just keep in mind that advertising regulations can apply to your Facebook page. See #AskScott, Episode 2.
Images Are Worth 1,000 Words
Use images to gain interest. 40% of people will respond better to visual information than plain text (zabisco). Visuals are a very powerful marketing tool. Odds are you already have photos of the home, so use them. Facebook has two options designed to help you use your photos more effectively.
Photo Albums
One of the great features of Facebook is the ability to create a photo album. You can create a new photo album for each listing. This would be a great way to organize your listings for your Facebook fans. Let's walk through how to do this.
Click Add Photo to upload your open house photos
Create a photo album to organize your photos
Make sure to add a description to the album
Update your status to promote your new album
Click Save
Cover Photo
Many people (even experienced marketers) fail to use the most valuable real estate on their Facebook page for promotion. The cover photo is the very first thing that visitors see on your Facebook page. Use it to help promote your open house. Here is an example of how the Arizona Association of REALTORS® is using the cover photo to promote the REALTOR® Caucus on September 12.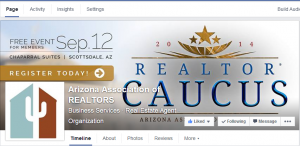 Beyond just placing a cover photo promoting your open house, you can add a link to add additional information about the house. This is a perfect opportunity to showcase the home on your website (I admit this is a little more technical, but can really payoff). Let's take a look at how this is done.
Click to change the cover photo
Click upload photo or choose from photos
Click anywhere on your new cover photo
Add a description with a link.

Facebook has evolved from the posting pictures of cute cats to a platform that you can use to promote and grow your business. Odds are as a real estate agent, you are already using Facebook to promote your listings. I hope that these tips help promote your open houses and generate more buzz.
I would love to hear other creative ideas you have used in the past to promote your open houses. Please comment below to join in the conversation.
To learn more about using Facebook and other social media tools, consider taking a Marketing Reboot class offered by AAR or your local association.

Facebook Business Pages
,
July Edition 4