Exporting a Transaction from zipForm® Plus
Did you know that your transactions in zipForm® Plus are stored for 14 months?  Guess what happens at the end of the 14 months – your files disappear!  If you're syncing your files to your zipForm® Standard account, then  you're saving your transaction forms on your computer – they will only last as long as your hard drive does.
What if you're taking advantage of the new zipForm® Plus Transaction Management System (TMS) and are uploading external documents; do those non-form documents get synced?  The answer is "NO!"
What's the best solution to keep all of your zipForm® Plus transactions and documents? Export your transactions; it's easy and the best way to keep all of your zipForm® Plus content for as long as you want.
In your zipForm® Plus account, you can export an entire transaction to your computer. Here's how:
Log into your zipForm® Plus account, making sure you are on your Transactions screen once you are logged in. Hover you cursor over the transaction you would like to export, and you will see a small arrow located in the upper right hand cover of your transaction box. Click on the drop down arrow, then select the "Export to archives" button. Do not select the Export button located towards the top of the transactions screen, as it does not function the same as the "Export to archives".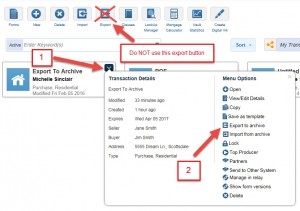 (Click image to enlarge)
Next, after clicking on "Export to archives", the export transaction(s) options box will pop up. You may select which documents to export from the transaction, include the transaction notes, checklist, history and you are also given the option to export as a single PDF file or separate PDF files. Once you have selected your documents to export, click the export button located at the bottom right hand corner of your options screen.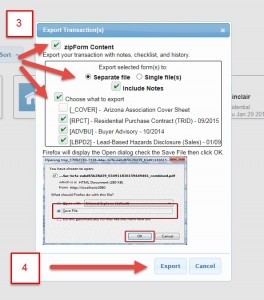 (Click image to enlarge)
Now you will see your downloads dialogue box which is typically located towards the bottom of your computer screen. Click on the save button.
You will find your exported file in your Downloads folder. The file will be named whatever you titled the zipForm® transaction you exported; e.g. Export to Archive below.

"About" contains the Property address for this particular transaction along with the buyer/seller name. 
"Attachments" contains your transaction history such as the documents added, time and date of when those documents were added, along with the transaction title and property address.
"Forms" contains all the PDF documents that were exported form the transaction. You may print out any of the documents from the Forms folder.
If you have any questions or issues, click to email AAR Business Services or call 866.833.7357.
TMS
,
Transaction Management System
,
zipForm plus