Vacation Homes and Resorts
Highlights from the 2017 National Assn. of Real Estate Editors Conference
Vacation Homes & Resorts Symposium moderated by Candace Evans, SecondShelters.com
Panelists included Kris Harman, Woodbine Development Corporation and Mike Leipart, The Agency
Evans: NAR came out with their (2017 Investment & Vacation Home Buyer's) survey and they showed that vacation home sales are still pretty normal…but the investment home side of that rose actually 4.5 percent to 1.14 million investment homes bought. We're calling it the "Airbnb effect" because a lot of people are buying second homes and looking at them as potential rentals.
The top reasons that people are buying second homes is for a family retreat (42 percent)…future retirement (18 percent)…investment renting (37 percent)…price appreciation (16 percent). What do you see that's new and unique in the marketplace of second homes?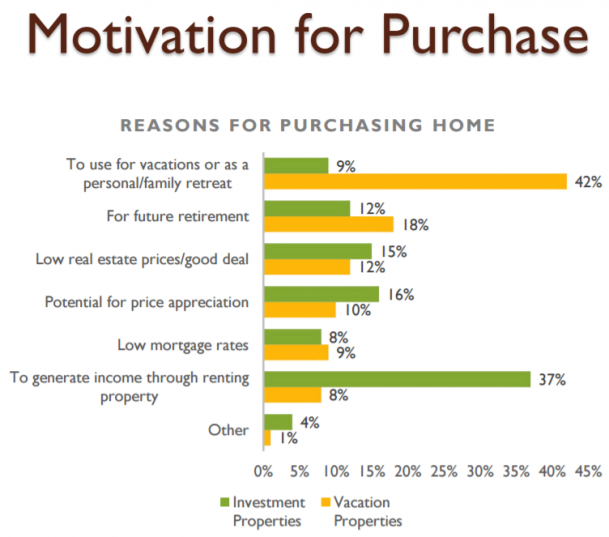 Source 2017 NAR Investment & Vacation Home Buyer's Survey
Harman: We have (Mountain Shadows) in Paradise Valley, Arizona. It's a redevelopment of a historic hotel that was built in the 1960s. It has a condominium component…14 units…and our buyers so far, 80 percent are investors; (20 percent) have said that they want to have it as a second home.
It works well for us because we have a rental management program with the hotel, so there's no need to go to an Airbnb or something like that because we've built-in a valuable service that we can offer. We're building condos that we're selling fully furnished…they go from 700 (thousand) to 4.1 million.
Evans: Is 700 still the sweet spot in an affordable second home?
Harman: In this sub-market of Phoenix, it is…and for that 700 thousand, you're getting a studio. You're not getting a three-bedroom home. You're obviously talking about a certain type of buyer and the price is pushing a thousand dollars per square foot.
Leipart: A thousand dollars a foot in Phoenix, Arizona is like the most exciting thing you can hear because that was a market that seemingly couldn't find the bottom…for a while. So to me, that's just stunning in a great way.
For the most part, people are looking for smaller…they have more of an empty-nester mentality. That means projects like Kris', that have a hotel component, are super important. Because if you want the whole family to come visit, you're not willing to buy a six-bedroom house. There needs to be a hotel component for overflow.
---
Related story: What happened to Mountain Shadows Resort? – azcentral.com (Nov. 29, 2016)
Airbnb
,
Candace Evans
,
empty nester
,
investment homes
,
Kris Harman
,
Mike Leipart
,
Mountain Shadows
,
NAREE
,
Real Estate Editors
,
second homes
,
vacation homes