April is Fair Housing Month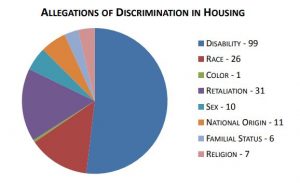 Last year REALTORS® around the country joined together to commemorate the 50th Anniversary of the Fair Housing act.  From pet accommodation and racial discrimination to issues related to gender, matters related to housing continue to evolve.
According to the latest annual report released by the Civil Rights Division of the Attorney General's office, Arizona saw a slight increase in the number of allegations of discrimination in housing from 184 to 191.  Now more than ever, REALTORS® on the front lines must remain as up-to-date as possible to protect their business and remain on the right side of the law.
Throughout the month of April, the Arizona REALTORS® will share relevant articles, videos and social media to encourage greater awareness among our members.
Key Points to Remember
A broker may not discriminate based upon race, religion, color, national origin, sex, familial status, or handicap, i.e., protected classes.
Advertisements may not indicate any preference or limitation based on the protected classes.
It is unlawful to refuse to reasonably accommodate handicapped persons.
If faced with a situation implicating a violation, a broker should stop, announce the broker does not discriminate, and immediately contact the broker's manager, designated broker or legal counsel.