Adding Favorites to Your Facebook Page
Do you have a Facebook page for your business? Have you added "favorites" to your page?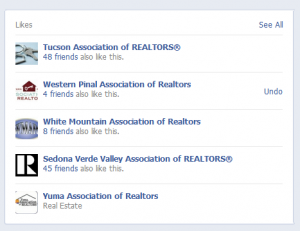 Favorites. Just as the things you "like" on Facebook show up on your Facebook profile, your Facebook page can display favorites. Favorites are a nice way to highlight your business partners. For your real estate business page, you might favorite the page of a handyman you recommend or the title company you prefer. If you administer a neighborhood group page, you might add favorite restaurants and stores in the area.
At AAR, we added local association pages to our favorites (see image at right). Of the 21 local associations in Arizona, all but 3 have a presence on Facebook.
Note: Favorites are called Likes once they show up on your page. Facebook enjoys keeping us on our toes by switching the terminology it uses. 😉
How To Add Favorites. Visit the page you want to add as a favorite. Click on the flower icon in the upper right, then choose "Add to My Page's Favorites." To remove the page from your favorites, you just choose the third option in the drop-down menu rather than the second one. Easy!
How will you use favorites on your Facebook page? Let us know in the comments below.
Facebook
,
favorites
,
likes
,
partners