Important Information Regarding zipForm®
Attention zipForm® users, the location of zipForm® on the AAR website has changed. It is now housed in the Efficient Business Tools section on the newly designed site.  This section also provides information about upcoming training webinars and classes, support documentation and FAQs.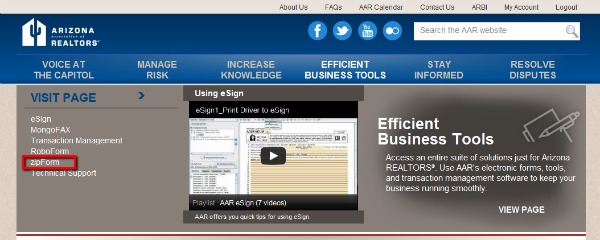 For Full Access – Change Your Password
To gain full access to AAR's new site, all members must change their password using their NRDS ID Number. If you're having difficulty, please email contact@aaronline.com. To add zipForm® to your favorites, click here.
More Business Tools from AAR
While in the Efficient Business Tools section of AAR's site, you can also easily find information regarding eSign, AAR's electronic signature program and other business services tools such as MongoFax, Transaction Management and RoboForm.
While you're there…
Be sure to poke around at the new site. Find a REALTOR® in your area, read the latest issue of Arizona REALTOR® magazine or subscribe to get real-time updates on the Buyer Advisory, locate an upcoming class or find out what's happening at the Capitol. We hope you enjoy navigating the new site and look forward to bringing you new functionality soon!