Lovebirds: Greg and Wendy Freeman
Since Valentine's Day is this week, AAR will be profiling husband and wife teams of REALTORS® who have been able to successfully work and live together. This week, we'll hear some of their stories and get some advice on how they keep the love alive.
Today: Greg and Wendy Freeman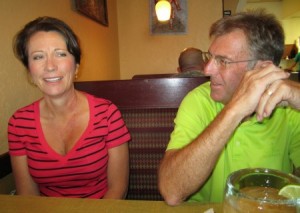 In 1983, Wendy was a civilian working at the Ft. Irwin Army Base in Southern California. She recalls hoping that someone would start working with her that was "cool and young". In walked a "dashing" Greg Freeman, an officer who had just returned from a tour in Italy. Wendy remembers, "He was supposed to be my boss, but the day before I got a new job." Wendy and Greg did become friends and in 1986, became husband and wife.
How did you make the decision to work together? Was it easy or hard?
"We had little businesses on the side," recalls Wendy, who got her real estate license in 2007. When Greg retired for a third-time from a job at a school, he actually jumped at the chance to come and work with Wendy. This year they celebrate 27 years of marriage and four years as a husband and wife team.
Greg said, "I really believe [Wendy] is the best REALTOR® and broker around! I was excited to work for her."
 What's been the hardest part of working together?
Wendy: "I tend to be a control freak. I'm type A and he's type B. Sometimes I can be too critical of him. I just want him to think like me!"
Greg: "Yeah, but I rely on her direction and I tend to look to Wendy for guidance."
What's been the best part about working together?
Greg: "It's that confidence you have in knowing that your partner is doing their best." Greg said that he knows that Wendy always has his back and they work through problems together to find a solution.
How do you think being a husband and wife team helps your clients?
Both Wendy and Greg know what it's like to serve or work in the military, their son just returned from Afghanistan, and that experience helps tremendously when working with military families. Wendy also said that since the two of them are truly opposites, "Someone is bound to like at least one of us! We work well together and our clients can relate to the broad spectrum that just the two of us cover."
Do each one of you take on a specific role in the business?
Greg: "I am more of a buyers representative, thought I work with sellers too. I show more properties and send more info to buyers, take pictures, listing presentations, documents, flyers."
Wendy: "My comfort zone is really the contract. If I had it all over again, I would have been a Real Estate attorney. Greg is great with our clients, he's really the face of the company!"
How do you keep the love alive?
Wendy: "We do a lot of RV-ing in Sedona. We are both from California and take a lot of short trips to San Diego. And to be honest, when I look at Greg, I still see the young dashing officer I met 30 years ago and I still know that he's the one for me."
Greg: "We also limit our conversations about work to 'fun conversations.' Anything that we might find frustrating, we leave at the office."
Any advice for other husband and wife teams?
Greg: "Don't go in as husband and wife, go in as partners. It's the relationship that makes it work. You should go into it as equals."
Wendy: "Make sure you treat your spouse like you would any other employee. Don't act like husband and wife at work."
In addition to the Freeman's 25-year-old son, John, Wendy and Greg also have a 23-year-old daughter, Sarah. Both are students at Arizona State University. Wendy adds, "I'd like to get them in the business at some point, but they both have their own interests." Only time will tell!
To find out more about Greg and Wendy Freeman visit them at wendyfreemangroup.com, or follow them on Twitter at @WendyHFreeman
Want more lovebirds:
Lovebirds: Jason and Chris Webb
Lovebirds: Carl and Phyllis Giordano