The April issue of Arizona REALTOR® Magazine is out!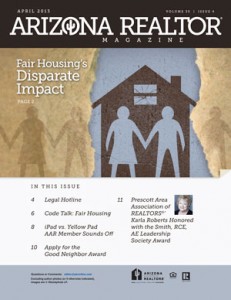 April is Fair Housing Month and AAR took this opportunity to highlight several important aspects of Fair Housing in this month's issue of the Arizona REALTOR® Magazine, which hit inboxes yesterday. AAR General Counsel Scott Drucker addresses the possible consequences of unintended discrimination and ways to protect yourself in his article, "Fair Housing's Disparate Impact."
This month's Code Talk features input on Article 10 of the NAR Code of Ethics and its implications on Fair Housing. We also feature a new Fair Housing App, from HUD.
The April issue also features two important people in our industry. The first, is PAAR President Karla Roberts, who was recently honored as a Dr. Almon R. (Bud) Smith, RCE, AE Leadership Society recipient. The second, is C. Dale Hillard, a self-proclaimed "old dog" that's learned in this day and age, he has to keep learning new tricks to stay relevant in our fast-moving industry.
Lastly, the April issue features some great Legal Hotline questions and answers supplied by Mack, Stratman and Watson. These include: "Should an agent's bankruptsy be reported to ADRE?" and "When do the Dodd-Frank Rules become effective?"
If you have an article you'd like to see in the next issue, email your idea to editor@aaronline.com.
April
,
Code of Ethics
,
fair housing
,
Scott Drucker