The September Issue of Arizona REALTOR® Magazine is out!
September is REALTOR® Safety Month and this month's issue of the Arizona REALTOR® Magazine addresses safety from several angles.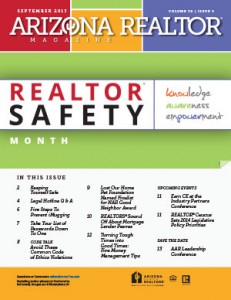 Trusting your gut is one of the top tips that safety professionals stress again and again. In this month's issue two Arizona REALTORS® share their personal stories of survival and give some great safety tips for everyone.
As more and more people embrace technology, the potential for a security breach becomes an even greater risk. AAR Senior Vice President of Business Services and Technology Ron LaMee gives REALTORS® five tips on keeping your technology safe.
The market may be great right now, but are you prepared for a slow down? REALTORS® must protect their finances along with everything else. Contributor Liz Recchia offers REALTORS® some great advice on how to manage your money to prepare for a rainy day.
In September, AAR continues the Code Talk series we've been running all year long with a look at recurring themes we've been seeing this year in ethics violations. A quick read may just help you stay out of trouble.
We hope you enjoy the issue. Please feel free to comment on the articles and share on social media.
AZR
,
Code of Ethics
,
Realtor Safety