The October Issue of Arizona REALTOR Magazine is Out!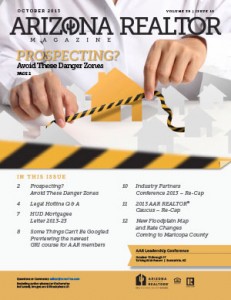 This month, AAR tackles the topic of prospecting for clients. While there are many ways to market, some agents are trying to pull bait and switch tactics that could end up getting them in a lot of hot water. We interviewed two experts to find out ways to market effectively without falling into a danger zone.
AAR also unveils a new GRI class that will be added to the curriculum in January. This one-day course teaches real estate professionals how to improve your communication with today's tech savvy clients. This course focuses on uncovering new ways to build a sustainable real estate career by giving you to the tools to market, consult, negotiate and close with buyers and sellers.
This issue also features a host of new legal hotline questions and answers like:  If a tenant commits a felony in a leased property, how soon can a landlord terminate the lease? and Is a seller obligated to provide insurance claims history even though it may reference a death in the home?
We'v also got updates on the flood plain map changes taking place in Maricopa County and a re-cap of both the Industry Partners Conference and REALTOR Caucus.
Read the issue here.
We hope you enjoy the issue. Please feel free to comment on the articles and share on social media.
If you've got an article idea, send it to editor@aaronline.com
AZR
,
GRI
,
Industry Partners Conference
,
insurance claims
,
October 2013
,
prospecting
,
terminate lease