Hear It Direct from Home Buyers and Sellers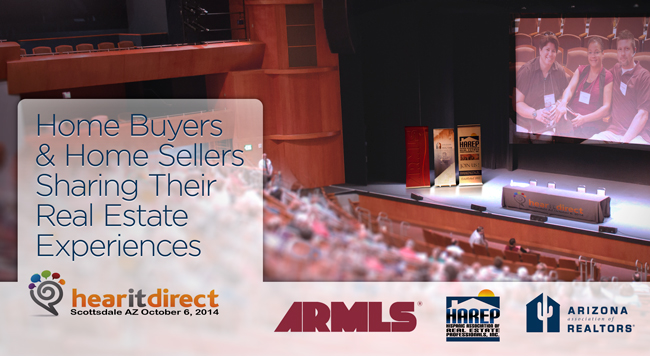 For the first time in Arizona and in partnership with ARMLS and Hispanic Association of Real Estate Professionals (HAREP), over 150 of the area's top REALTORS® and industry professionals recently descended upon the Scottsdale Center of Performing Arts to listen to consumers talk about their recent real estate experiences at the Hear It Direct program.
Hear it Direct invited one panel of home buyers and one panel of home sellers to share their personal experiences with attendees in hopes of helping our attendee's understand and meet the needs of today's consumers.
Two members shared that what they found interesting was:  The panelists did not care whether their agent had a website or not and either one or two panelists indicated they found their agent by driving through a neighborhood to see which agent had the most for-sale-signs posted.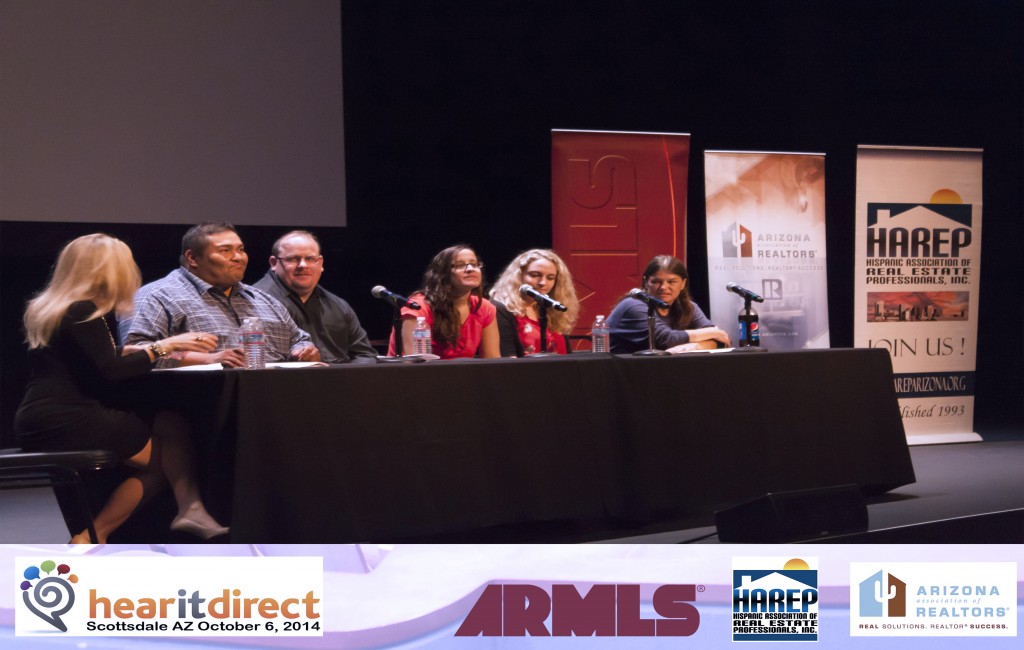 Panel members were asked a series of questions by moderator, Jennifer Berman, from Hear It Direct.  Panelists shared their experiences about the process, about their agent, how they found their agent and ultimately what specifically their agent did or did not do during the process that would impact them referring the agent to their friends and family.
Whether you want to be more effective at marketing or pricing properties, these ideas represent some of the best ways to grow your real estate business. While not all buyers and sellers are the same nor have the same goals and experience, here's a list of 10 things these consumers wanted from their REALTOR®:
In-depth knowledge of the market, the general area, as well as niche area.
Up-to-date comps.
Demographics of the neighborhood, community or area.
A REALTOR® who is more focused on being relationship-centric over dollars, specifically "client's interest over commission."
Honest, patient, ambitious.
Not only understanding of the market changes, but communicating these changes to the consumer.
Willingness to move quickly (see houses when they come available); Aggressive, go-getter attitude (but not pushy).
Good communicator and understands what the client wants.
Good listener.
Pro-active.
Additionally, these consumers were more interested in developing a relationship with their agent (although one panelist did mention they were not interested in being "Facebook friends" with their agent), than the agent's online reputation or experience level.
Leading agents D.Patrick Lewis, Gary Nelson, Justin Schlegel, Jim Sexton, Holly Mabery, Tahoma Epperson, and Bob Hertzog were part of two wrap-up panels that discussed what they heard, what it meant to them,  but also how agents can adjust their business models and marketing dollars to make their business more "consumer-centric".
D. Patrick Lewis, REALTOR® with Better Homes and Gardens Real Estate Sonoran Desert Lifestyles  "learned that farming works and that your ability to convey your competence and articulate your value proposition are paramount in not only your marketing material but in your dealings with consumers."
Holly Mabery, REALTOR® with Keller Williams The Heartland Group recapped "It is truly all about the relationship.  As agents, we articulate our value in many ways: industry knowledge, market savvy & technical skill set.  However, if we don't listen to the client and relate to them on some level to guide them through this very complicated and sometimes emotional process, we are less likely to be effective."
Gary Nelson, REALTOR® with Realty Executives of Flagstaff said "Communication is key.  Buyers and Sellers wish to be communicated to in a manner that is most suitable for them.  Some want email, others want texts and still others want phone calls.  But how quickly and efficiently the agent follows up is important.  Each panelist discussed that the agent they chose was the best and quickest at following up with a communication."
As an agent, what continues to surprise you about today's home buyer and sellers?  How many items from the above list of ten, do you cover in your listing presentations?
*Additional home buyer and seller resources are available in the NAR Real Estate Statistics or the 2013 Profile of Home Buyers and Sellers
consumers
,
Gary Nelson
,
Hear it Direct
,
Holly Mabery
,
home buyers
,
home sellers
,
Jim Sexton
,
Patrick Lewis