ADRE Commissioner Shares Most Common Compliance Findings
Arizona Association of REALTORS® (AAR) President Jim Sexton and Arizona Department of Real Estate (ADRE) Commissioner Judy Lowe recently sat down at the ADRE offices in Phoenix to discuss topics and issues that concern REALTORS®.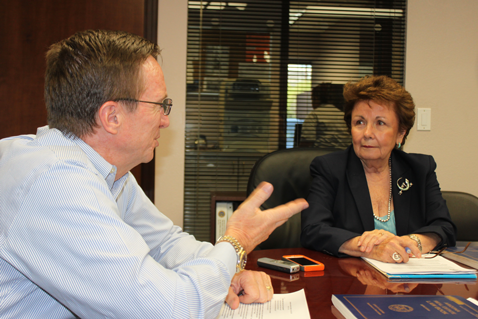 In this first installment, Commissioner Lowe shares some of the most common compliance findings.
Property Management
"There are more violations around just not knowing how to balance the trust account," said Lowe.
• Trust Account Deficiencies
• Failure to perform and/or maintain monthly trust account reconciliation in which the adjusted trust account
bank balance is reconciled with the owner/tenant liabilities Licensees paying themselves out of the Trust
Account, rather than transferring funds into an Operating Account and then paying themselves a commission
or management fee
• Online banking sites being used as "offsite storage" for statements, cancelled checks, etc.
• Property Management Agreements that fail to contain all required clauses
• Renewals without written 30 day proper notice to property owners
• General lack of understanding about accounting basics, the property management software being used and the
requirement for a property management Broker
Unlicensed Activity
• Licensees doing business , or being compensated outside of their broker
"PC/PLLCs (Professional Corporation/Professional Ltd Liability Companies) are not an operating entity as
far as ADRE is concerned," Lowe explained. "They must operate under their employing broker."
"Let's say, I have a team," hypothesized Sexton, "and I decide for tax purposes to make it a PLLC."
"Licensed team members can be in the PLLC," continued Lowe, "but the PLLC name must include the name of
team members, as well as your name. The PC/PLLC can only have licensees licensed under the same
Brokerage as members, the Broker would pay the PLLC, and the PLLC can pay only those licensees included
in the PLLC name."
Late Disclosure
• Personal info changes; i.e. new home or email address
"It's a real challenge," admitted Lowe. "We have an issue…with a self-employed broker. Her license has been
expired since last November and she's closed 14 transactions. She forgot she needed to renew and her email
address wasn't correct here, so she didn't get the 90, 60 and 30 day notice, nor the e-blast that notifies you of
the expiration."
• Disciplinary Action Disclosure Form LI-214 disclosures, i.e. convictions
Has the Applicant: Been convicted and/or entered into a plea agreement and/or a plea of no contest to ANY
felony (or misdemeanor) in Arizona and/or any other state…?
If so, you have 10 days to report it. Waiting until your license renewal will most like result in delays and fines,
and the need for a Finger Print Clearance Card.
In part two of his interview, AAR President Sexton chats with ADRE Commissioner Lowe about Advertising, Limited Service Listings and Unlicensed Assistants.
ADRE
,
arizona department of real estate
,
compliance
,
Jim Sexton
,
Judy Lowe
,
late disclosure
,
LI-214
,
property management
,
trust account
,
unlicensed activity