Size Doesn't Matter When It Comes to REALTOR® Safety
During the presentation "Professional, Profitable and Protected" at the 2016 Spring Convention, Tucson Association of REALTORS® 2016 President Eric Gibbs, Sr. shared some safety concerns that you might not expect to hear from a six-foot-four, ex-Navy man.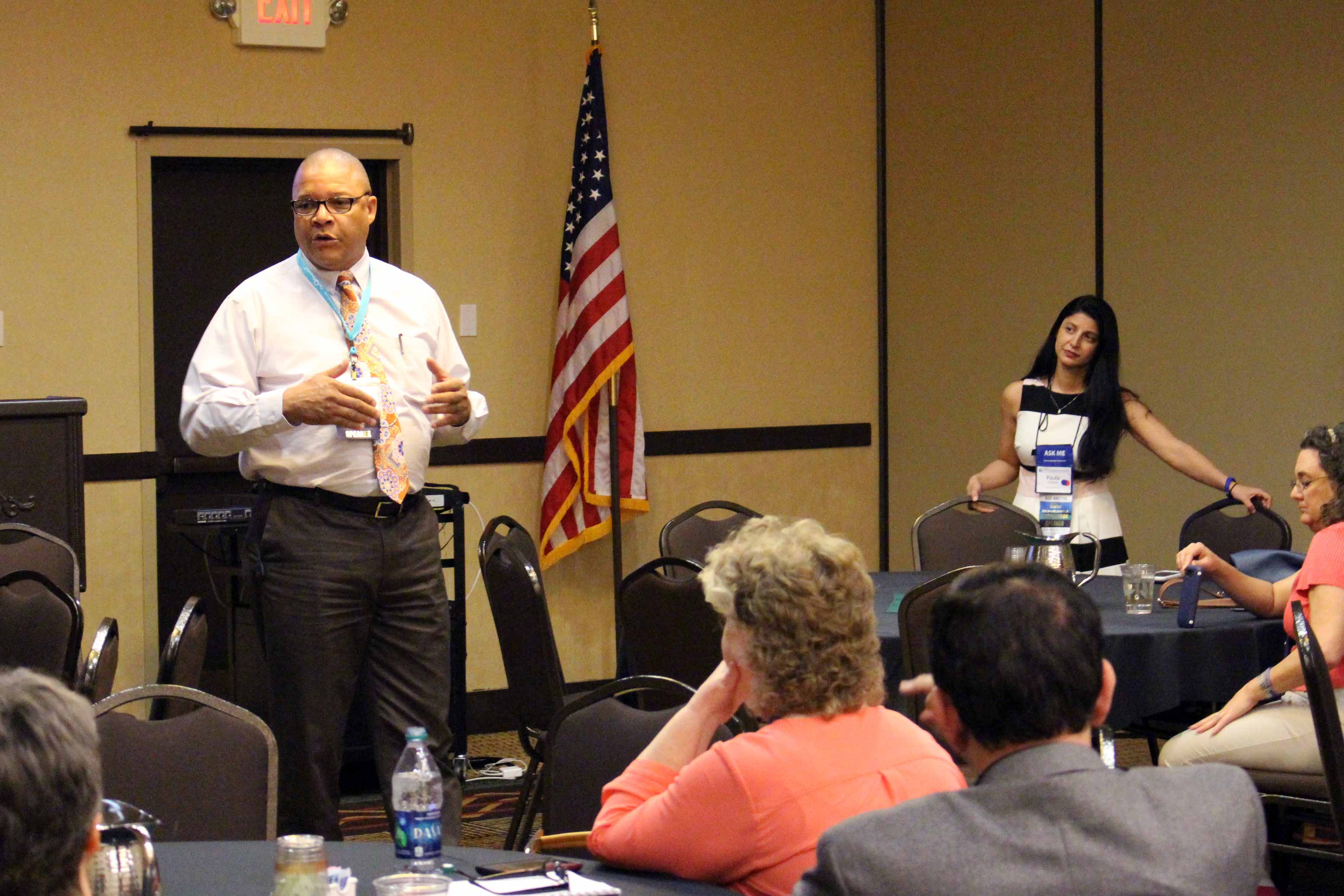 Eric Gibbs describes a property showing that could have gone wrong
as co-presenter and 2016 President-Elect Paula Monthofer looks on.
"About four years ago, I returned a call from somebody who was interested in seeing a condo," Gibbs told a room full of Arizona REALTORS® in Prescott. "So, I jumped into my car, not thinking twice. When I arrived, the potential buyer was there…with another gentleman. That's when the first red flag went up.
"After I got out of my car, one of the first things I did was check my surroundings to see what exit strategies there were if I needed to run. When I got to the condo, I introduced myself and watched them out of the corner of my eye as I opened up the lock box. That's when the second gentleman stepped back and put his hand into his pocket — and my adrenaline really started pumping.
"Just because you're a man doesn't mean you can't get hurt" – Eric Gibbs, Sr.
"I opened the door and allowed them into the condo, but stayed by the front door. From the back bedroom, I heard one of them say, 'Hey, there's a hole in the shower, come look at this!' That's was my second red flag. I politely replied, 'No, that hole can be fixed, I'll let the listing agent know.'
"When it was time to end the showing, I stepped out first, let them exit and then locked the door. They could've just been two guys looking at a place with no premeditation to hurt me, but I allowed myself to listen to my gut.
"Look, I'm six-foot-four. I'm a big guy. I can be intimidating too, but I know my limitations. Just because you're a man doesn't mean you can't get hurt – someone can't knock you out, pull a gun and shoot you. Even as a man, I'm cautious about when and how I show properties. Remember, it's okay to walk away, if you don't feel comfortable."
In order to receive potentially life-saving texts, make sure your cell phone up-to-date in your member profile. To find our more about AAR's Agent Safety Alert Program, click here.