Know Restrictions Before Buying Near a Military Air Base
Arizona's military airbases benefit the state and country in innumerable ways. For example, did you know that virtually every F-16 combat mission flown in Afghanistan and Iraq was flown by a pilot trained at Luke Air Force Base (Luke AFB) or in airspace and ranges located within the state? In fact, Luke AFB is the premier training base for F-16 and F-35 pilots and it will soon be home to 144 F-35A Lightning IIs.
In order for Air Force bases in Arizona to accomplish their mission, accommodations must be made by the surrounding areas. It is for this reason that, through legislative protections, Arizona has removed approximately 32,788 acres from the threat of incompatible development in the areas surrounding Luke AFB, Auxiliary Field 1, and the Gila Bend Auxiliary Field.
Similar protections are in place surrounding the other military facilities throughout the state. Furthermore, in 2001, Arizona's Revised Statutes were amended to define compatible land uses with a military airport and to codify permissible development options within the noise contours and accident potential zones.1 It is therefore critical that potential buyers familiarize themselves with these use restrictions before purchasing property in the vicinity of a military airport.
Two critical issues define compatibility of uses: noise and safety. Arizona statutes therefore seek to: (i) limit the exposure of people and noise sensitive businesses to high decibel levels; and (ii) limit the concentration of people and safety sensitive activities in areas of highest probable accident impact. This is particularly important considering that Arizona's two largest Air Force bases, (Luke AFB and Davis-Monthan AFB), are located in close proximity to Phoenix and Tucson respectively.
According to A.R.S. § 28-8481, all political subdivisions in the vicinity of a military airport must adopt land use plans and enforce zoning regulations to assure development compatible with the high noise levels and accident potential generated by military airports. Furthermore, A.R.S. § 28-8481 contains tables outlining compatible uses within various Day-Night Average Sound Level ("Ldn") zones, most notably the 65 decibel Ldn noise zone.2
There are many land uses incompatible with high noise levels, particularly within the high noise zones defined as the 65 Ldn and higher. These include, but are not limited to, places where people normally sleep, such as residences, hotels, and hospitals. It is for this reason that…
A.R.S. § 28-8481 does not consider single-family residential uses compatible in any of the hazard or noise zones. Uses such as schools, libraries, theaters and concert halls are similarly incompatible.
As for accident potential zones as defined by A.R.S. § 28-8461, they are incompatible with uses that result in a high concentration of people such as residences, apartments, hotels, offices, labor-intensive industrial centers, retail establishments, and sports arenas. This leaves permissible uses such as sparsely-populated industrial centers that do not emit dense smoke, agriculture that does not pose safety concerns to planes by attracting large flocks of birds, and other similar low density, height restricted uses.
So, how do residential buyers and their representatives know if the land they are considering purchasing can house a residential structure? Can they simply look to the surrounding area? The answer is a resounding "no."
It is impossible to judge a land's permitted uses by the surrounding area. Pre-existing structures may have been grandfathered-in and do not reflect the current restrictions. For that reason, buyers should ask questions, research applicable statutes and, for Luke AFB, input the Assessor's Parcel Number (APN) into the Maricopa County website as explained below.
To research a property's location within a restricted area of Luke AFB, interested parties can visit the Maricopa County PlanNet site. Once there, click the box titled "Military" on the left side of the page and then click the "Find Parcel" APN icon at the top of the page. Once you enter the property's APN, it's location within a potentially restricted zone will be revealed.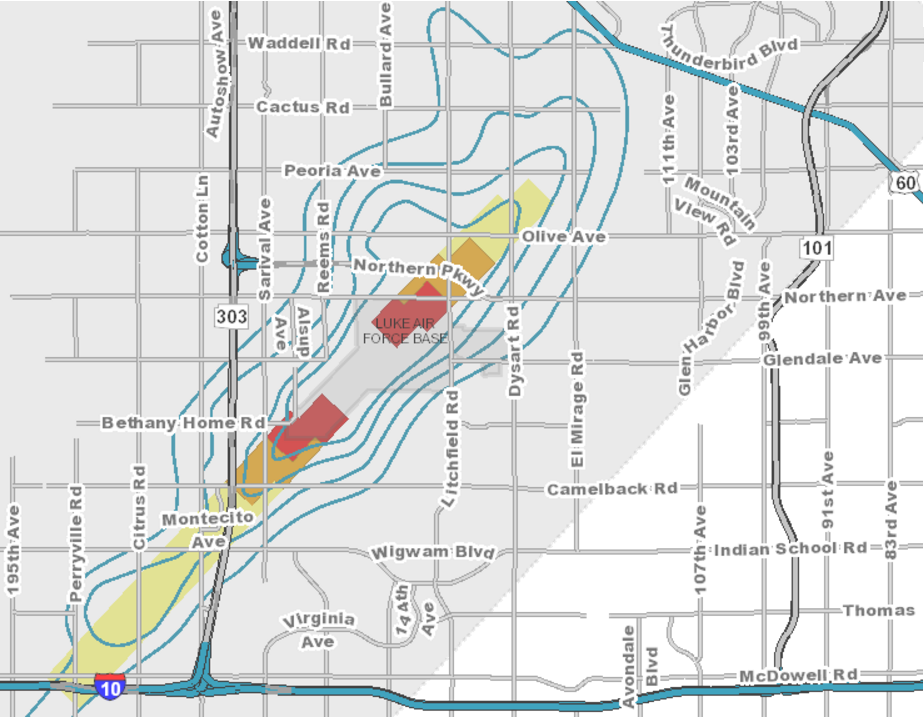 Buyers can also access military airport maps, auxiliary airfield maps, restricted airspace maps, and military training route maps, all of which can be found on the Arizona Department of Real Estate website. These maps outline high noise and accident potential zones surrounding military airports. Once identified, buyers can match the zone to the use and restriction tables found in A.R.S. § 28-8481.
While these search tools are a great resource, it is critical that property usage and restrictions be researched before a property is purchased. This sentiment is echoed by Barbara Plante, Deputy Director of Luke AFB's Community Initiatives Team. According to Plante, "If you wait until you're signing paperwork at closing to research the issue, it's too late." For this reason, she makes herself available to all prospective buyers and their agents in the Phoenix metropolitan area, all of whom are free to contact her at Barbara.Plante@us.af.mil. Not only does Ms. Plante help buyers and their representatives understand applicable use restrictions, she takes pride in working with the public to ensure that Luke AFB ingratiates itself to the surrounding community.3
Unfortunately, buyers continue to purchase property in the vicinity of a military airport under the false impression that they can construct a residence or utilize the property for a high-density or noise-sensitive commercial structure when it is simply not permitted under Arizona law. However, steps can and should be taken to research use restrictions prior to purchase, thereby benefiting and protecting both the buyer and their agent.
---
1
Luke AFB is not the approval or denial authority on any land uses external to its property line.
2 Sound levels from aircraft between 55 and 60 decibels are considered moderate and generally acceptable
for residential use. Residential use in the 65 Ldn contour and higher is discouraged.
3 For Davis-Monthan AFB, Nicole Dalrymple is the Chief of Community Relations and can be reached at Nicole.Dalrymple@us.af.mil.
A.R.S. § 28-8461
,
A.R.S. § 28-8481
,
APN
,
assessor's parcel number
,
Davis-Monthan
,
Luke AFB
,
Luke Air Force Base
,
military air base