The June Issue of the Arizona REALTOR® Magazine is Out!
Check your inbox for the June issue of the Arizona REALTOR® Magazine!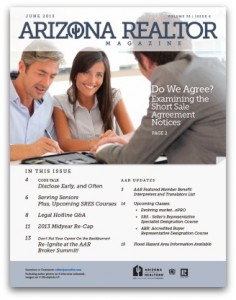 This month, AAR General Counsel Scott Drucker discusses the Short Sale Agreement Notice* and answers some of the most commonly asked questions regarding the proper use of the form.
Also in this issue, we take a closer look at disclosure and see how one small oversight can turn into a big problem. We'll also explore how earning the SRES® (Senior Real Estate Specialist®) designation can open you up to a growing niche market.
Our always-popular Legal Hotline Q&A* features questions that range from "When should a tenant complete the move-in form?" to "Who can sell a mobile home?"
Many members of AAR made the trek to our nation's capitol last month and give you their take on how Mid-Year went and what's to come for Arizona REALTORS®.
Check out the issue and be sure to rate, comment and share your favorite articles.
*This content is only for AAR members, you will need to login to access it