#AARCONV Sneak Peek: How to Combat Bad Housing Data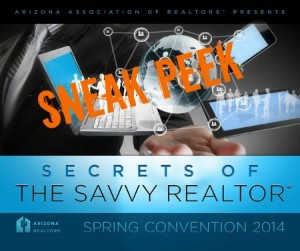 Many consumers turn to the Internet before contacting a REALTOR®, but, the data doesn't always paint a true picture of the market. If you don't manage your clients expectations with credible data on pricing and comps, you run the risk of having a very disappointing experience on all sides and even possible backlash from your client.  REALTORS® need a resource to set the record straight. At this year's AAR Spring Convention, AAR members will uncover Secrets of the Savvy REALTOR®. One of which is the REALTOR®  Property Resource (RPR). 
Join REALTOR® Property Resource Market Manager Terry Nolan  on Tuesday, April 17 from 10:00 a.m. to 10:45 a.m. as he gives an in-depth presentation about how to utilize this free resource from NAR to help combat erroneous data and prove that you have the inside scoop on what's true in the Arizona market. After class, join Terry in the AAR Genius Bar to speak one-on-one and receive even more hands-on instruction.
REALTOR®  Property Resource (RPR) is a free, value-added benefit included in your National Association of REALTORS® membership. Over 750,000 REALTORS® have access to the largest "parcel centric" database in the world featuring over 160 million properties, county public records, FEMA flood maps, school zoning information and some of the best reports in the business.  RPR exists "because of REALTORS® " and is only available to NAR members – there is no public or consumer access.
Registration is open now for the AAR Spring Convention. Follow along on Twitter or Facebook using the #AARCONV. Full convention passes are only $179 and one-day passes are $79. Register today!
Additional features of RPR:
1. Search properties – Easily identify type, neighborhood and activity. All while keeping an eye on your own listings.
2. Create maps – Identify zip codes, neighborhoods, points of interest or a specific radius.
3. Neighborhood information – Include demographic information (rent vs. owner occupied), how people get to work, average temperatures, etc. in any of your reports.
4. Property information – Access property details by entering an address and hitting "search".
5. Customize data to fit your client's needs – In a matter of minutes, you can create individualized property reports, seller's report, marketing activity report and/or mini-property report utilizing RPR's powerful analytics and significantly more data than Zillow or Trulia.
Do you use RPR? What do you think are its best attributes?
RPR