Arizona REALTORS® Dialog with ADRE on Commissioner's Rules Revision Request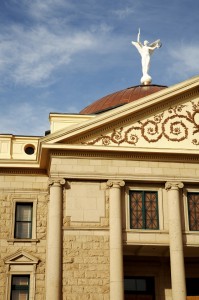 Arizona REALTORS® are hard at work even during the dog days of summer. In mid-July, the Arizona Department of Real Estate (ADRE) sent a notice that the Department would be seeking an exemption from the Governor's rule making moratorium to revise the Commissioner's Rules.  The Commissioner's Rules implement statutes or describe the ADRE's procedures and are a part of the Arizona Administrative Code.
On July 21st, Arizona REALTORS® Vice President of Governmental Affairs, Nicole LaSlavic, attended a Special ADRE Advisory Board Meeting and obtained a 46-page draft of the proposed rules. During the meeting, the Commissioner and ADRE staff reviewed the draft document addressing the proposed changes; however the draft was not available for distribution at that time.
On the afternoon of Wednesday, July 23rd, the Arizona REALTORS® Chief Executive Officer Michelle Lind, General Counsel Scott Drucker, and Tom Farley of Willetta Partners, Inc., met with the Commissioner and ADRE staff regarding the proposal. At this meeting, the association requested an opportunity to obtain feedback on the proposal from its members. The following day, the proposed rules draft was sent for review and comment to the association's Leadership, Legislative & Political Affairs Committee, Risk Management Committee and the Regulatory Affairs Workgroup. Despite the fact that given the time of year many were on vacation, these REALTOR® committee members took the time to review the proposed revisions and provide input.
With our members' concerns in hand, on July 30th the Arizona REALTORS® once again met with the Commissioner and received a modified version of the draft rules. Given the fact that the Department intended to make its request on August 4th, it was conveyed to the Commissioner that there was simply not enough time for thoughtful analysis and that the association could not support the Department's request for an exemption at this time. Other industry stakeholders conveyed a similar message to the Department.
With the ultimate goal of protecting the industry and our member's ability to conduct their business, the Arizona REALTORS® expressed a willingness to work with the Department and other stakeholders to draft rule revisions that are consistent with statute, fall within the exemption provisions of the Governor's Executive Order, and contain benefits that outweigh the economic impact to the industry.   We will keep you posted on the process.
legislation