Lovebirds: Carl and Phyllis Giordano
Since Valentine's Day is this week, AAR will be profiling husband and wife teams of REALTORS® who have been able to successfully work and live together. This week, we'll hear some of their stories and get some advice on how they keep the love alive.
First up: Carl and Phyllis Giordano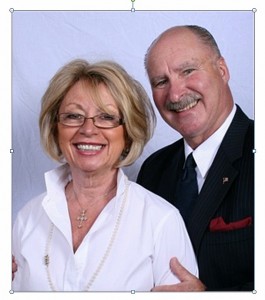 Carl, a then successful owner of two auto part stores met Phyllis in the bank she worked at as the vice president, during the summer of 1974 in Long Island, NY. They dated, fell in love and shortly thereafter married.
Phyllis became a REALTOR® in the early 1980's, but it wasn't until Carl suffered an injury during a game of basketball that rendered him unable to work that Phyllis suggested he get his real estate license. Carl was hesitant to leave the auto industry, but he ultimately decided to go for it. In 1993, Carl joined Phyllis' booming real estate practice and hasn't looked back since. This year, the Giordano's celebrate 38 years of marriage and 20 years as a professional team. They have one son, Carl Giordano Jr. (who is also a part of the team) and three grandchildren: Jocelyn, Katen and Colin.
Here's how they do it all:
What's been the hardest part of working together?
When you're married, live together, play together and work together… life can get a bit challenging at times. When you get home at night the conversations about real estate don't end. It's tough to separate business from our personal lives and "shut it off" when everything is so intertwined. Even a romantic night out to dinner; when us gets an email or text with an offer on a house, this triggers a whole new conversation about work.
What's been the best part about working together?
Being so closely connected in all facets of life.
How do you think being a husband and wife team helps your clients?
Our clients are getting two professional, trustworthy career REALTORS® with complementary skills sets for the price of one. We're a dynamic, hardworking team that always puts the needs of our clients first.
Do each one of you take on a specific role in the business?
Yes. Phyllis has her "box" and Carl has his "box". Boxes are something we decided on when we first went into business together. Phyllis's "box" consists of working with the administrative staff, keeping the books, and working with her seller clients. Carl's "box" consists of working with buyers and sellers, overseeing the Giordano Team Buyer Agents and managing the company.
How do you keep the love alive?
We try to go on a short weekend getaway every 90 days, just the two of us.
Any advice for other husband and wife teams?
Yes. Have separate offices on opposite ends of the building. (Lol!)
To find out more about these lovebirds, visit their websites: giordanoteamaz.com, like them on Facebook or follow them on Twitter @TheGiordanoTeam.